Re-Imagining Duquesne's Spiritan Legacy For A New Era
One hundred forty years ago a small band of visionary priests traveled from Europe to Pittsburgh on a mission—to found a small Catholic college to educate the families of recent immigrants working in the steel mills. Holding classes in rented space above a bakery on Wylie Avenue, the six Holy Ghost priests believed that a rigorous values-base education would provide otherwise unobtainable opportunities for their first group of 40 students. Over time, the priests built a world-class institution of higher education that grew in size and stature to become Duquesne University, educating the doctors, judges, financiers, journalists and other professionals who contributed to the rich tapestry of life in the Pittsburgh area and beyond.
We remain in awe of the Founders' commitment and perseverance. In recalling those modest beginnings, we need to consider what those Spiritan Founders would think of the institution to which they gave birth.
Ken Gormley, Duquesne's new president, poses this question: In what ways can Duquesne's strategic priorities reflect the spirit (and the Spirit) that animated founder Fr. Joseph Strub and his colleagues for a new era?
In this document, we set forth five strategic imperatives that align squarely with our heritage yet embrace the challenges of our ever-evolving world. In pursuing these strategic imperatives, Duquesne will advance for an exciting new era its historic mission of providing an education for the mind, the heart and the spirit.
Duquesne will identify bold pathways to offer students the knowledge and skills they will need for productive and fulfilling lives and careers in the 21st century.
Any strategic plan's success derives from how it inspires people to make progress.
That commitment remains firmly in place. Since adoption of the plan, the University has made progress on each of the five strategic imperatives on which the plan was built.
The plan's title, "Re-Imagining Duquesne's Spiritan Legacy for a New Era," made a bold statement that members of the University community would innovate and challenge one another while building on the founding values that have served the people of Duquesne and our region so well for so long.
The new era would have less to do with reinventing our heritage and more with how we honor it amid the changes and challenges facing higher education and our world.
Now, the new era is upon us. Amidst the challenges facing the nation and the world, and the challenges particular to higher education, Duquesne's progress will ensure that the University does not merely persist but is strengthened in its commitment and its positive impact.
Updates noted here are an overview of broad gains that already have been made. The story told here, though, comprises many others: the gains in departments and offices, student organizations and initiatives, as well as the rich personal relationships and collaborations that continue to flourish across campus, all of which t reflect the spirit of Duquesne and our collective work in this new era.

Even as the strategic plan pushes Duquesne's historic commitment to community engagement to achieve greater impact and reach, it does so with the expectation that students-through their academic work, their clubs, their extra-curricular activity, and more-will both drive and learn from that commitment.
As Duquesne invests in interdisciplinary and interprofessional programs, that process respects the variety of people involved as learners, researchers, and members of our campus community.
Duquesne students make our campus family more vibrant through their achievements and their continuous engagement with everyone here-faculty and staff-dedicated to their success.
Five Strategic Imperatives
Duquesne will identify bold pathways to offer students the knowledge and skills they will need for productive and fulfilling lives and careers in the 21st century.

Institutions of higher education often declare they are "student-centered." Yet the reality of making daily decisions that advance student interests is not so easy or clear-cut. Today's Duquesne students have far different backgrounds than those children of immigrant steelworkers who first enrolled; still, they face similar hurdles in attaining success.
Duquesne will become the region's flagship institution for community engagement through mutually beneficial partnerships that advance the city, the region and the world.
Progress on the Plan
Dukes in the Field
In January 2018, a large crowd gathered in a newly imagined space on the sixth floor of the Duquesne Union to celebrate one of the first and most visible accomplishments of the strategic plan. Since the opening of the Center for Career Development and the launch of "Hire a Duke," nearly 3,500 students attended 189 on-campus career programs, workshops and presentations offered by the center. More than 1,200 visited for individual career consulting. A new record number of employers and students attended Duquesne Career Expos, with approximately 900 students participating. New technology resources resulted in expanded job and internship opportunities for students with more than 20,000 postings from 6,000 employers.
Our new location has provided increased visibility and now, more than ever, students have access to a wide variety of services and events designed to prepare career-ready graduates for lives of success, service, and meaningful work.

- Nicole Feldhues, Director of the Center for Career Development
Renovation and Innovation
More centers emerged-and more space changed. In fall 2019, the renovated fourth and sixth floors of Rockwell Hall opened, with renovations reflecting an array of open and collaborative spaces for students, as well as space for the Palumbo-Donahue School of Business's Institute for Sustainable Business Innovation, Viragh Institute for Ethics in Business, and the Investment Strategy Institute.
Students and faculty were provided a new vehicle for swift innovation at Duquesne, thanks to the Rangos Prizes, initiated in 2019 by philanthropist John G. Rangos, Sr. Covered in Duquesne Magazine, the prizes intend to reward teaching innovation proposed by faculty and students.
A New Approach for All Students
Starting in fall 2021, all Duquesne undergraduates will pursue their educations with a re-imagined central curriculum—the set of courses and experiences all students need to graduate. Rather than focusing on mastering static sets of facts and ideas that may quickly become outdated, the new approach will challenge students to understand how different disciplines think—and then undertake experiences to test ways of thinking in the context of real—world situations relevant to current generations of students and graduates.
With so much information readily accessible online, Duquesne's central curriculum must provide students with a means to develop the ability to evaluate claims, information and perspectives, providing them with great power in today's workforce and society.
Greater Options
Since the launch of the plan, Duquesne has expanded options for students, adding numerous minors and one major to the academic offerings. The choices reflect interest and professional demand for crossing disciplines and developing varied pathways for success.
Health & Human Services
Assistive Technology
Biostatistics
Public Health
Qualitative and Interpretive Methods
Global Health
Interreligious Studies
National Security and Civil Liberties (a major for a bachelor of arts degree)
Learning to Walk, Then Learning to Run
Duquesne excels at orienting and introducing students to University life on the Bluff. Taking cues from our own successes and feedback from students, the University has added a Sophomore Year Experience (SYE) to continue that good work.
Intended to promote class identity, persistence, leadership skillbuilding, positive social interaction and community outreach, the SYE is designed to strengthen school spirit and create a lasting connection to Duquesne. With the inception of the SYE, students participate in structured class-specific programming to create seamless transitions from orientation through graduation. From welcomeback ice cream socials and class-year sponsored Duquesne athletic events to informational workshops and careerrelated activities, the SYE provides ways for sophomores to increase their likelihood for success at Duquesne.
Each February, SYE hosts the Sophomore Scholars Recognition program, in association with Lambda Sigma Sophomore Honor Society, to acknowledge students who have achieved a QPA of 3.5 or higher in the second year.
Duquesne will become the region's flagship institution for community engagement through mutually beneficial partnerships that advance the city, the region and the world.

Throughout its history, our University has contributed to the dramatic development of the city, the region, the nation, the Catholic Diocese that serves as its home, and its partners around the globe. The challenges that confront communities today—locally, nationally and internationally—make Duquesne an invaluable partner.
Duquesne's academic programs will transcend traditional boundaries, positioning it as a leader in interdisciplinary and interprofessional programs.
Progress on the Plan
Neighbor to Neighbor
Whether working as a lead institution with the Uptown Task Force, hosting a leadership academy for Catholic high school students, hosting the first annual conference of the Opportunity Zones Association of America, or helping coordinate overall efforts to place more than 7,600 students, faculty and staff in projects and mutually beneficial engagements from the Hill District to Hazelwood and all over the city and region, the Duquesne family is launching exciting new ventures to provide benefit to our neighbors as well as the University.
Where Education Meets Opportunity
Duquesne Magazine highlighted a recent gift by the Peirce Family Foundation to establish the Peirce Scholarships, given so that teachers in the Diocese of Pittsburgh's Catholic Schools could earn master's degrees in our School of Education, to help students with literacy challenges, particularly those with dyslexia.
The Duquesne Kline School of Law's new Kline Center provides high-quality continuing education for judges across the Commonwealth. In addition to welcoming the second annual Duquesne University/August Wilson House Fellow to campus in November 2019, Duquesne also helped the August Wilson House secure a Save America's Treasures grant of $499,628 to support efforts to restore the Pittsburgh playwright's Hill District childhood home for use as a multi-disciplinary arts and education center.
Duquesne Global
At Duquesne, community engagement also is increasingly global. Our domestic students study abroad, and we attract students to Pittsburgh from many nations. To better align those efforts, we are enhancing our means to recruit in the competitive global market. We also are aligning what previously were three separate efforts—our study abroad office, international recruiting, and our program to offer English as a Second Language—into one central office. The Center for Global Engagement functions with the broad intention of opening doors to new places and life-changing new experiences for our students and faculty.
The new Duquesne-China Health Institute connects the University with four partner institutions in China, with the goal of educational exchanges among master's- and doctoral-level students in occupational therapy, physical therapy and speech-language pathology. The partnership also will explore additional ways to collaborate in order to meet the demand for health professionals in countries with aging populations and growing demand for the specific therapies on which the Institute is focused.
Pittsburgh Planning Pioneer
Duquesne is one of the first major organizations, and the first university, to have used the City of Pittsburgh's new and groundbreaking planning process to develop its Institutional Master Plan. As an anchor institution downtown and key influencer in the region, Duquesne's plan enshrines a significant collaborative effort among many in the University community and with leaders in civic organizations.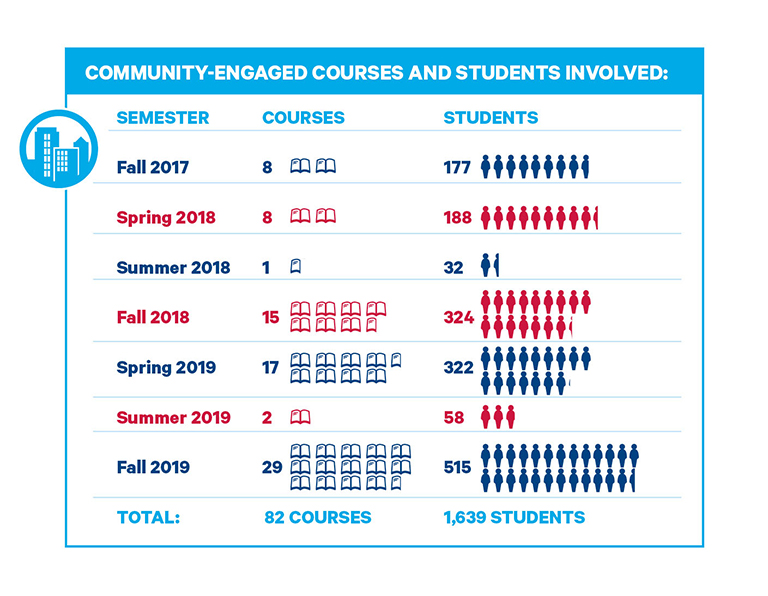 Duquesne's academic programs will transcend traditional boundaries, positioning it as a leader in interdisciplinary and interprofessional programs.

Our University grew in 1911 when it established its first professional school in law. Other new schools followed: Business, Pharmacy, Nursing, Education, Music and the Health Sciences. Yet higher education today must resist the notion of rigid silos. The most exciting and creative work on campus often occurs when scholars collaborate across traditional academic boundaries. Moreover, employers increasingly seek to recruit students who are comfortable and nimble working on interdisciplinary teams.
Duquesne will create a vibrant campus community that fosters the achievements of its talented faculty, students and staff.
Progress on the Plan
When Big Ideas Grow to Bigger Ideas
When the University's strategic plan was launched in 2017, it imagined the potential for adding a simulation hospital, the necessity of growth in interdisciplinary offerings in emerging fields of healthcare and technology, and the chance for wide-ranging collaboration. The plan also was expected to live, its objectives and aspirations adapting as more knowledge and new ideas emerged.
Duquesne's effort to launch a new College of Osteopathic Medicine is perhaps the most consequential news of the past year and the best example of the University adapting to the ambitious spirit our strategic plan calls for. It envelops ideas—the simulation component, interdisciplinary programs, collaboration—as it becomes an enormous initiative that has emerged from the plan.
The founding dean of the College was announced on November 20, 2019. Dr. John M. Kauffman Jr. will lead the development of the necessary facilities, hire faculty, create curriculum and enroll the first class in fall 2023. As the only comprehensive Catholic research university to launch an osteopathic medical college, Duquesne will attract immediate positive attention and interest, both regionally and nationally.
Editorial board
Pittsburgh Post-Gazette, August 19, 2019:

Duquesne's entry into medical school education is cause for celebration in a city that's long been a leader in health care. If properly executed, the new institution can have an influence that well exceeds the number of doctors it graduates each year.
Interdisciplinary Growth
Progress happens at the edges of what is known, where disciplines meet. To remain relevant to contemporary students and meet societal challenges that demand innovation, interdisciplinary programs are an important part of our new era.
New Interdisciplinary Programs
BA, International Security Studies
BS, Chemistry 4 + 1
BS, Computational and Applied Math (2020)
BA, Data Science (2020)
Programs Under Consideration
BA/BS in Public Health
BS in Health Sciences
Grow Health Management Systems to a BS of Health Administration
DO: Doctor of Osteopathic Medicine
MA and/or Certificate in Applied and Public Sociology
MM in Music Therapy
IEMMA: The Institute for Entertainment, Music, and Media Arts
The Mary Pappert School of Music launched the Institute for Entertainment, Music, and Media Arts (IEMMA) this fall. IEMMA is future-looking, an initiative that understands that music professionals—whether artists, performers, sound engineers or designers, or hybrid professionals—have opportunity in a much bigger market than most people realize.
If one considers the traditional market for Duquesne music professionals in the past, comprising orchestral music, music education, music therapy, Catholic ministry, and recording, the market is small, about $16.2 billion. When one adds gaming, film, tourism, commercial music, multi-denominational worship, publishing and sound technology, music is a $2 trillion job market.
IEMMA recognizes the potential and intends to create an environment that fosters the skillsets young artists need to thrive. IEMMA will help students develop entrepreneurial mindsets that can, in turn, help them generate multiple revenue streams through their creative abilities in all media including performance, recording, producing, composing, engineering, managing, publishing and distribution, gaming and more.
IEMMA will become a premiere destination for young artists seeking a revolutionary and unique leadership experience for application in the entertainment industry. Students will benefit from an environment equipped with the latest hardware and software, connected to leading industry figures and trade associations, and guided by faculty who are active in the profession and possessing the expertise to teach and mentor students at the highest level.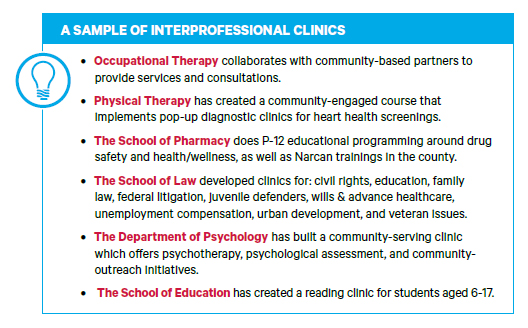 Duquesne will create a vibrant campus community that fosters the achievements of its talented faculty, students and staff.

When it was founded, Duquesne relied heavily on a small number of dedicated Spiritan priests to deliver "the Duquesne education." Today, the complexity of a modern research university demands an increasingly diverse and talented workforce and resources.
Duquesne will encourage an entrepreneurial spirit that will allow it to creatively steward University assets, adapt to changing environments and enhance its financial vitality to fulfill its mission for a new era.
Progress on the Plan
A Space and A Voice for Everyone
Diversity and inclusion have always been part of Duquesne's story. The University's founding took place because recent immigrants and their families working in the mills and factories were being systematically denied opportunity in a growing city. As Duquesne has become more complex and has drawn people from around the nation and the world, the strategic plan necessitates that the University commit to vibrancy and a climate to foster achievement.
Since 2017, Duquesne has shown a greater and more visible level of commitment to those efforts. The President's Advisory Council on Diversity and Inclusion is now cataloging our diversity and inclusion initiatives and opportunities and will soon make recommendations for enhancing those efforts. The Staff Advisory Council is a new body that provides a collective voice for staff ideas and issues.
The World Comes to the Bluff
High profile events brought thousands of people to Duquesne's campus over the last year. The National Conference on the First Amendment hosted prominent scholars, journalists, attorneys and other experts from around the globe. Other prominent visitors have included Supreme Court Justice Sonya Sotomayor, two-time national Poet Laureate Natasha Tretheway, as well as local leaders who took part in the United Pittsburgh series, sharing visions for a vital and inclusive city. The most recent Duquesne University/August Wilson House Fellow, Pittsburgh multimedia artist Njaimeh Njie, visited in mid-November.
Our Mission and Our World
In 2019, the University hosted the first Trauma-Informed Community Development Institute. Simply put, the Institute was committed to sharing ways to help communities recover from disaster, recognizing that such recovery demands attention to the ways people have experienced and are dealing with the effects of trauma.
In spring 2019 Duquesne also launched the Carl G. Grefenstette Center for Ethics in Science, Technology and Law, for which the University is recruiting a founding director. Duquesne's position as a leading private research university with a distinctive Catholic identity and strengths in ethics make it an ideal home for such interdisciplinary inquiry.
Pittsburgh is a global leader in technological development. While robotics, artificial intelligence and data analytics make news daily, understanding of how they may affect society is not growing at the same rapid pace. The Grefenstette Center will serve as an interdisciplinary hub for exploring these vital issues within a Catholic context.

- President Ken Gormley
Winning Enthusiasm
The University is completing renovations to the UPMC Cooper Fieldhouse, a home for our athletics programs that will reflect our spirit and history in its name. Chuck Cooper, a Duquesne basketball standout in the 1940s, was the first African American drafted into the NBA. The renovation project will transform the facility. From a face-lift to elevating student-athlete performance to engaging the greater campus and Uptown communities, the new UPMC Cooper Fieldhouse will not only enhance every aspect of the student-athlete experience, but also serve as a center for community engagement, events, and activities for the entire campus community.
Duquesne will encourage an entrepreneurial spirit that will allow it to creatively steward University assets, adapt to changing environments and enhance its financial vitality to fulfill its mission for a new era.

The Spiritans constructed Old Main on a limited budget by using bricks that they themselves had fashioned from the clay on which the building now stands. Today's campus operates like a small city and requires the same commitment to efficiency and detail.
Progress on the Plan
Living in the City—As Individuals and as a University
Hundreds of Duquesne students cross the 10th Street Bridge every day, the span that connects the South Side neighborhood with our campus. The students living there commute and live with a diverse population. We have students working, learning and volunteering in many of the 90 neighborhoods that make up the city of Pittsburgh—a city that has become one of the main reasons students are attracted to Duquesne.
The University must steward carefully both student needs and community assets that make our campus such an attraction. Duquesne is managing everything from our students' mobility needs to their presence in the city to taking care of our relationships with community leaders and residents so that our presence is welcome and beneficial.
Resources Will Power the Plan
The last few years have shown Duquesne alumni and friends committing to the University in unprecedented force. In fiscal year 2019, the University secured total gift commitments of $42 million, a new record. Those commitments include gifts of cash, grants from foundations and state and federal agencies, as well as longterm commitments from individuals' estate plans and other deferred gifts. Of the commitments, 54 exceeded $100,000, and 18 were for more than $250,000.