Prepared for Anything
Ask any graduating Duquesne senior how they feel about the next step in their lives and you'll hear the same answer: "Prepared." We'll make sure you have the professional confidence, impressive experience and powerful networks you need to get a running start on a meaningful career.
Duquesne's Center for Career Development
Whether you are a student just beginning college or a Duquesne University graduate, the Center for Career Development is here to support you at every stage of your professional journey. We help students and alumni explore careers, connect with employers, and develop professional and job search skills through programs, events, and one-on-one career counseling.
Throughout your professional life, we'll always be in your corner. The relationships you make here—with your peers, faculty, and the entire Duquesne family—are supportive inspiring and never stop giving.
Career and Major Exploration with Focus2Career
Duquesne's Center for Career Development is here to help you find a major and career path that is right for you! Students and alumni can utilize Focus2, Duquesne's online career, major and education exploration planning system for helping you choose a major, build your career goals and learn important job information. Focus2 gives you free access to a wide range of career assessments that help you explore your values, skills, interests and personality. Based upon your results, it then makes suggestions of possible career paths and Duquesne majors that could be a fit for you. It also links you to important career information and resources to help you evaluate your options and make an informed decision. It's an easy-to-use, one-stop shop for all your career exploration needs!
Students, sign in using your MultiPass credentials to get started! If you are an alumni, you can create your free account by using the access code DUKES.
Graduate Outcomes
This Graduate Outcomes Survey comprised students who graduated in August 2021, December 2021, and May 2022.
92%career outcomes rate
Individuals reported being employed, continuing education, completing volunteer service, or serving in the military.
72%of those continuing education reported they will attend Duquesne University.
80%had one or more career-related internships
For our students, the average number of internship experiences reported was 4.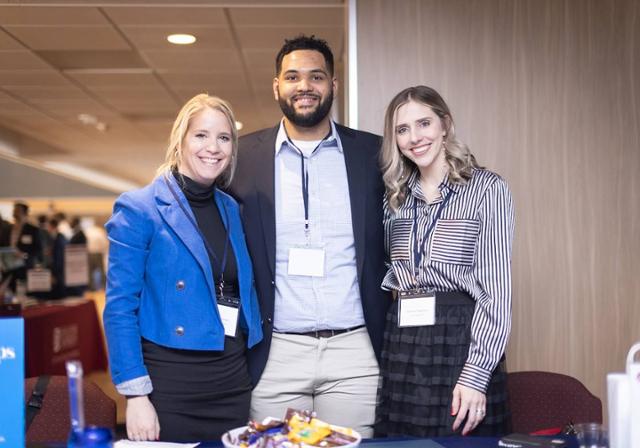 Spring Career Fair
The Center for Career Development is proud to host a Career Fair on campus in the fall...

More About This Event



Hear from Students and Alumni