10 Schools of Study
Make the most of your academic ambitions
You have numerous options to explore and prepare for your future with our wide range of undergraduate majors and graduate programs. Duquesne is known for providing an education that emphasizes not just intellectual growth, but also ethical development. A degree from Duquesne prepares you to make solid contributions in your field and in your community. You have access to a breadth and depth of offerings to help you make the most of your academic ambitions—to earn an education that's exactly what you need and more than you could imagine.
Our future-focused education helps you to develop job skills, learn to think critically and come to better understand yourself and the world around you. We feel fortunate to be entrusted with your gifts and your goals. You have big plans, and we do, too.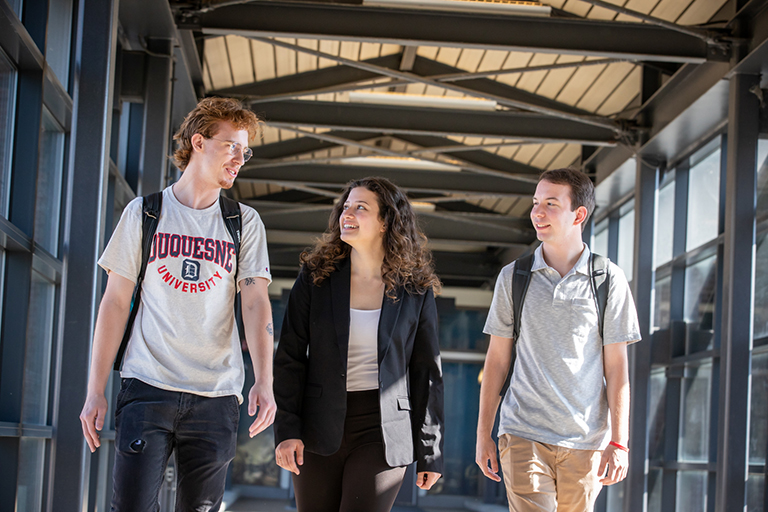 Where will our Bridges take you?
Every undergraduate student in every school of study takes a series of courses to build skills for success. Inspired by Pittsburgh's 446 iconic spans, our Bridges curriculum encourages thinking across disciplinary perspectives, connecting ideas, and reaching beyond what's familiar allowing you to study a variety of subjects and graduate with the richest possible academic experience.

Faculty enthusiastic about your future
While studying at Duquesne, you'll enjoy a low (13:1) student-to-faculty ratio, and in small classes, you get the personal attention needed to achieve your best. Most importantly, our faculty exemplify the ideal of the teacher-scholar. Your professors are committed to providing an exceptional learning experience. They are top-notch teachers, but they also value and participate in scholarship and research, making important contributions to their fields.
In fact, many students — both graduate and undergraduate — have the chance to assist their professors with research projects that are changing the world around us. The Carnegie Foundation even classified Duquesne as one of only seven Catholic universities in the nation with a "research university with high research activity" distinction.