A team from Duquesne Kline School of Law's Appellate Moot Court Board took home second place at the 2023 National Energy & Sustainability Moot Court Competition that took place on March 2-4, 2023, at West Virginia College of Law.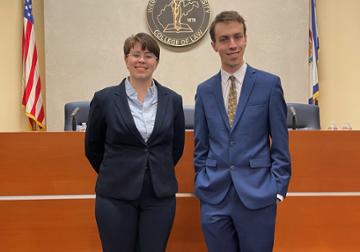 Second-year students Olivia Donia and Stefan Hoffmann represented Duquesne Kline Law in the Championship Round where they narrowly fell to a team from Georgetown Law School. The team of Rachel Barr, Jesse Nelms, and Marissa Miller also represented Duquesne Kline Law, advancing to the round of sixteen.
Duquesne Kline Law's teams competed alongside teams from Yale, William & Mary, the University of Virginia, the University of Houston, the Ohio State University, and others. The competition, which included 38 teams from 24 law schools, was hosted by West Virginia University's College of Law and is widely regarded as one of the nation's most innovative and competitive interscholastic tournaments. This year's problem included four real-world energy issues involving the constitutionality of a state's right-of-first-refusal system that gives incumbent utilities the exclusive right to build new transmission lines.
As they advanced through the competition, the Duquesne Kline Law teams earned accolades from the judges, including federal court judges and experienced energy lawyers practicing in the region. Following the championship round, Donia and Hoffmann were honored at a reception that took place at WVU's College of Law. Martin McKown, L'15, coached both teams. The teams are under the direction of Erin Karnsman, director of Appellate Advocacy Programs and director of the Thomas R. Kline Center for Judicial Education.