Flora Dellishad has lived in more countries than many people have visited in their lifetimes and speaks more languages than most persons. She speaks affectionately of the places she has lived internationally after ultimately coming to the United State to reside. That path led her to Pittsburgh to study at the Thomas R. Kline School of Law of Duquesne University where she is working toward her bigger goals. She is simultaneously earning her juris doctor and her M.B.A., as part of the business essentials micro-credential program.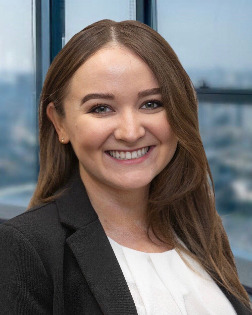 Dellishad grew up in China and Japan because of her parents' jobs. While living in both places, she diligently worked to learn the languages and became fluent and certified in both Mandarin Chinese and Japanese. Her parents are Kazakh/Tatar, and they nourished in her an interest in learning those languages. And through her own pursuits, she learned to speak Turkish conversationally. "Kazakh is very similar to Turkish, so I took a Turkish class one summer when I was in college," Dellishad said.
Her world expanded even more during high school when she decided to participate in an exchange program in England. Afterward, Dellishad immigrated to the United States at the age of 18 to study international relations.
"After college I worked as a legal translator at BigLaw in which I translated legal documents from/to English/Mandarin Chinese/Japanese," she said. It was at that job Dellishad decided she wanted to pursue law.
Her openness to the world around her continued to grow, and she decided to study in Pittsburgh for its many opportunities. "In addition to many law firms and major corporations, Pittsburgh is becoming one of the country's greatest innovation hubs. I also really liked how welcoming Pittsburgh is. It truly lives up to its reputation of 'a big city with a small-town feel'," she said.
After researching law schools, she discovered Duquesne Kline School of Law. "I learned about its highly ranked legal research and writing program, as well as high bar passage rate. After I applied, I was blown away by how warm and supportive the faculty, staff, students, and alumni are," said Dellishad.
While at Duquesne Kline School of Law, she discovered the business essential for micro-credential program and was immediately interested because of the possibilities the program holds and the doors it may open.
"During my first year of law school, I began to realize that the knowledge and skills I will gain from an M.B.A. degree will help me become more skilled and versatile in the legal field. Earning an M.B.A. will increase my exposure to diverse perspective on global, social, and business issues as I collaborate with colleagues whose experiences, and career goals differ from mine. Further, pursing an M.B.A. degree will allow me to network with people outside of the legal industry to build a more diverse professional network," said Dellishad.
The business acumen and financial tools the micro-credential offers are essential pieces of modern law practice that Dellishad will be able to draw upon while practicing law.
During this past spring, Dellishad co-authored an article on tax law entitled, "New Taxation Provisions on Digital Assets Hidden in the Infrastructure Bill" with Gregory F. Suher, Esq. of Leech Tishman. More recently, she took part in the ACBA Summer Clerkship Program.
In Dellishad's spare time, she volunteers with organizations such as the American Bar Association ProBar, JFCS Refugee and Immigrant Services, and Duquesne's Small Business Development Center to assist attorneys with pro bono work. Those experiences along with the enterprise skills she is gaining, will set up Dellishad to be able to practice law in her choice of area and empower her to make a difference in the world.
"Working with these organizations helped me develop a deeper understanding of community leaders' responsibilities and how a law degree can meaningfully effect people's lives," she said.
News Information
Published
January 30, 2023