Anyone who has been on an archaeological dig knows the amount of patience it requires. It is painstakingly slow, careful excavation on crouched knees searching for minute objects. Law school necessitates similar perseverance, as does becoming published in a law journal. Victoria (Tori) Maatta, a fourth-year evening student, has background in these complexities. She has used that fortitude to author her first published piece, "ISIL as Salesmen? The Roles of Due Diligence and the Good Faith Purchaser in Their Illicit Artifact Trafficking" in the Georgetown Law School Journal of National Security Law and Policy.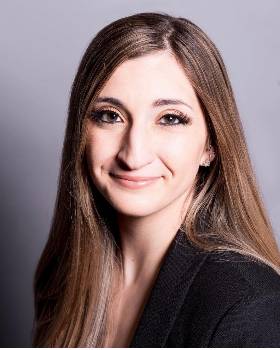 Richard Gaffney, an associate professor at the Duquesne Kline School of Law, has taught Maatta, and through her diligent work, she has become a teaching assistant in his Sales Law class. She was inspired to write her paper when she was a student in that class and she learned about a case that involved the famous painting "Red Elvis" Andy Warhol. Gaffney explained the case concerned the Uniform Commercial Code's entrustment doctrine, where the entrusting party grants a person who deals in goods of the kind the power to convey good title to a Buyer in the Ordinary Course (BIOC).
The case piqued Maatta's interest. She always wanted her work to be published and entered this journey the way she started law school: open-minded and unflappable. "I told Professor Gaffney my goal is to be published, whether something like this or a children's story. I just wanted to do something to contribute, and he supported that," she said.
The case fascinated her and with her background in archaeology, her mind wrapped around documentary evidence. She brought her idea for a paper to him. "He was my supervisor for my directive research, and I took him for Sales and Federal Income Tax [classes]. I liked his classes and directive research, sales, and art law go hand in hand. With a focus on terrorist studies, it further incorporated my interest in the whole thing. I wouldn't have been able to do this without his help," she said.
Maatta wrote her paper and Gaffney gladly assisted in her quest to have it published. "I knew she could accomplish anything she decided to pursue. She discusses complex legal issues in detail, presents arguments confidently and persuasively, and has demonstrated a high degree of tenacity and professionalism in my classes, working through every problem in detail until she had mastered the issues and answers," he said.
Gaffney enlisted Dana Neacsu, director of the Duquesne Center for Legal Information and the Allegheny County Law Library and associate professor of legal research, who aided with the publication process. They searched a national database and uploaded the manuscript Maatta had written. Then came the waiting, much like the monotony coupled with anticipation archaeologists feel during a dig.
Maatta, who received her undergraduate degree in archaeology / art history and minored in religious studies and global studies, knows about patience. She went abroad during college to participate in several digs, visiting Egypt in 2015, and later Scotland and Jordan.
"That work was a lot of waiting. You had to have a good eye and document as you are scraping along," Maatta said.
As with her archaeological work, Maatta was meticulous in writing her material and conscientious in her approach to submitting her work for possible publishing. Much like an excavation, there is personal deliberation—if you will find something or if someone will find your work noteworthy enough for inclusion in a journal.
"I was excited about the article. I think it's a cool topic and I hoped others would think it is a cool topic. I hoped they would think it is an important one, too," she said.
After a small wait, the respected Georgetown Law School Journal of National Security Law and Policy published her article in December of 2022.
In addition to meeting her bigger goals with her publication and being enrolled in the evening program, Maatta has been working a variety of full-time jobs since she started law school, from medical insurances to law clerking and as a paralegal. When she first heard her paper was accepted for publication, she was thrilled.
"I was so excited. I cannot tell you how long I have been wanting to put something out there," Maatta said.
Gaffney additionally was ecstatic for her. "The publication is a significant accomplishment for a current law student. As well, it makes a major contribution to the area of Art Law," he said.
She credits the opportunity for publication to the Duquesne Kline School of Law for having an evening program that empowers working adults because it gives them the chance to pursue law without a huge disruption to their lives.
"I like that there is an evening program. It has afforded my peers and I the opportunity to go to law school. If not for the evening programs, we would have had to quit our jobs. I'm glad I didn't have to quit. We are one of a handful of schools in the nation that offers an evening program. It enables us to take our experience to employers and say look what I did. The fact that we have an evening program is great," Maatta said.
She is likewise a strong proponent of the alumni at Duquesne Kline, too. She is an evening program legacy, her father Timothy Maatta having graduated from the program in 1980. She appreciates the robust alumni system she has encountered—not only from him but from the many alumni she has met along her legal education journey.
"It [the school] offers a strong network of support. The alumni are amazing; evening student alumni are the coolest people. They will literally drop anything for you and will do anything they can do to help. I truly believe that. Lawyers are special in that way; they are willing to help and big on paying it forward," Maatta said.
As for her future, she is weighing her post-graduation options and has not ruled out delving further into the art world and meshing it with her law degree. If not, Maatta explains there is a large world out there for her to explore where she can continue to add her knowledge.
News Information
Published
January 30, 2023