Nearly 80 local high school students gathered on the Thomas R. Kline School of Law of Duquesne University campus on Friday, March 24, for the second annual "Future Voices of the People" event. Students participated in sessions and activities to experience a day in the life of law students.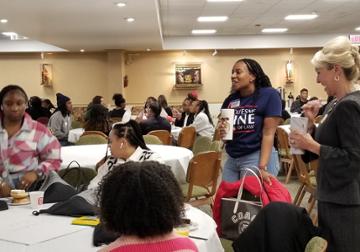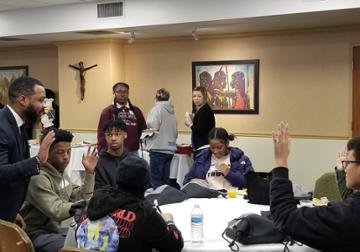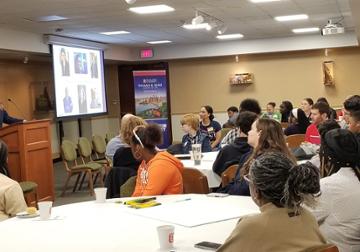 "Future Voices of the People" grew since 2022's inaugural event, which hosted about 60 students. Districts and schools who attended this year's event include: Aliquippa, Oakland Catholic High School, Pittsburgh Public Schools, Propel Braddock Hills, Urban Pathways, and Woodland Hills High School.
Duquesne Kline School of Law students assisted the high school students who were present throughout the day. Notable Duquesne Kline alumni also attended to talk about their careers, including retired Justice Cynthia Baldwin, L '80, and Judge Dwayne Woodruff, L'88, who answered students' questions.
The schedule for the daylong event was packed. The high school students participated in activities including visits to our court rooms, attending mock classes, and participating in a panel that included university professors and staff and alumni attorneys from FoxChase Advisors LLC, and the Federal Reserve Bank of Cleveland Pittsburgh Branch.
Duquesne Kline Dean April Barton told the students, "Lawyers can change history; lawyers literally have the ability to improve the human condition. Our hope is that we inspired a future generation of change agents today and that all of you consider a career in law, because we want you to be our future voices."