When Marine Veteran Jeffrey Brown, A'23, returned home from military service, he found himself unsure about his next steps. The idea of going back to school crossed his mind, but he wasn't certain where to start or whom to turn to for guidance.
"My journey in search of the right educational path began with a simple but decisive step, visiting different college campuses. I visited Pitt, CMU, Point Park, Robert Morris, Carlow and Duquesne. Each had its merits, but it was my visit to the Bluff at Duquesne University that left a lasting impression," said Brown.
Walking alongside Brown, Duquesne's Office for Military & Veteran Students introduced him to the wealth of opportunities the university offered while acknowledging post-military life challenges he could face—and how he would be supported.
"The veteran community at Duquesne felt like a close-knit family, where everyone knew each other and readily provided support for academic success and campus life adjustment. This camaraderie eased my university transition significantly."
With an associate degree from the Community College of Allegheny County, Brown decided to pursue bigger goals, and enrolled in Duquesne's B.A. in International Security Studies program, housed in the McAnulty College and Graduate School of Liberal Arts.
In addition to support from the Office for Military & Veteran Students including Director Christopher Boissonnault, Brown was closely guided by his professors, as well as the Center for Career Development, during his time at Duquesne.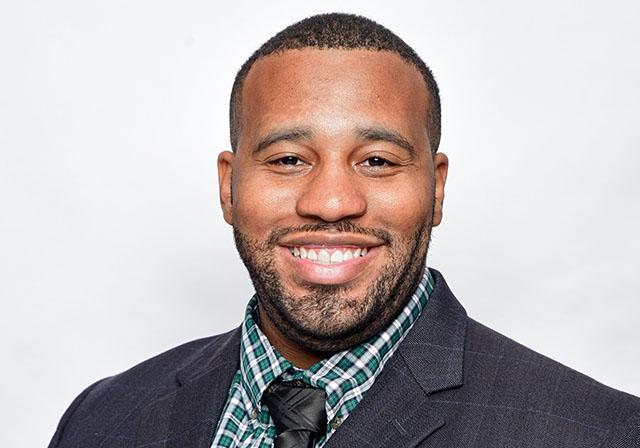 Three and a half years later, Brown's horizon-expanding education from Duquesne coupled with his passion for IT, helped him land the position of Information Technology and Digital Development Program Associate with Wesco, a leading global supply chain solutions provider.
In his position, Brown ensures the smooth operation of systems, including overseeing the backup generators and maintaining air conditioning to keep Wesco's servers operating at an optimal temperature. Additionally, he is responsible for devising a robust system and application recovery plan to address potential disruptions.
"Another crucial aspect of my role is managing the proper disposal of outdated systems and the decommissioning of old applications to maintain the efficiency and security of our IT environment," explained Brown.
Prepared for anything, Brown said his experiences have undoubtedly readied him to face any career trials life throws his way. "I eagerly welcome new assignments at work, viewing each one as an exciting challenge. Each new challenge equips me with another valuable tool in my professional toolbox," he said.
Brown remains closely connected to the University, most recently attending the Veterans' Breakfast and Memorial Service at Duquesne's 2023 Alumni Homecoming and Family Weekend.
Inspired by his positive experiences at Duquesne and the University's mission to "serve God by serving students," Brown is dedicated to helping veteran and military students. "I've made it my mission to facilitate this transition for others, helping them start their university journeys on a more supportive note."
News Information
Departments, Centers, and Offices
Topics
Published
November 02, 2023