For Jess Towns, it was a case of turf toe that led to her receiving a prestigious National Science Foundation (NSF) fellowship.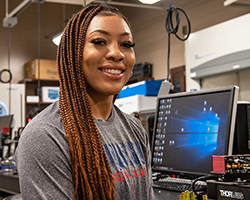 The Duquesne University student, who will graduate with a bachelor's degree in biomedical engineering and mathematics in May, injured herself cheerleading at a basketball game in her sophomore year. The injury, which healed in a few weeks, sparked her research to help improve the safety of the sport.
"The research plan looks at the biomechanics behind cheerleading, such as the head impact exposure caused when falling from a stunt," she said. "The goal is to see how we can reduce concussions and other impact injuries by restructuring cheerleading practices and creating equipment to make the sport safer."
The fellowship, which is part of NSF's Graduate Research Fellowship Program, supports students who are pursuing research based master's and doctoral degrees. While participating in a program at the Wake Forest School of Medicine last summer, Towns worked with faculty members there to conduct research and build upon the ideas in her NSF fellowship application. She will begin studies for her doctoral degree at Stanford University this fall.
Towns is well prepared to conduct the research, as she participated in two different labs while studying at Duquesne. She noted her first lab experience with Engineering Professor Dr. Melikhan Tanyeri occurred during the COVID-19 pandemic.
"Despite the situation, Dr. Tanyeri was so helpful," she said. "He made sure we understood the lab process, even when we couldn't be in the lab. He has also been very supportive in helping me pursue my goals, encouraging me to apply for funding opportunities and helping with grad school recommendations. He is an excellent mentor who helped me build my research skills."
Those skills also landed Towns a research fellowship from Stanford, which selects only one percent of students for the honor. She credits Duquesne's intense research focus - and hands-on opportunities - for much of her success.
"I was required to conduct research as an undergraduate. If that hadn't been required, I'm not sure where I would be," she said. "The biomedical engineering curriculum is so well-rounded that by my junior and senior years, I was developing products for use in the real world."
An Atlanta native, Towns was drawn to Duquesne by its biomedical engineering faculty, location and array of interesting projects, including one where she worked with her classmates to design a portable, low-cost device for meningitis detection.
"I really like the one-on-one interaction with my professors and there were so many interesting projects to explore," she said. "And Duquesne is in the city but away from the city. It has its own nice little community, and I liked that."