The Armstrong Tunnel inbound to downtown Pittsburgh will be closed due to construction and repair from Saturday, March 4, 2023 through January 2024.
The tunnel connects Pittsburgh's Southside neighborhoods via the 10th Street Bridge and Second Avenue to Forbes Avenue, the main traffic artery running through Duquesne's campus. Many South Hills commuters, including students, faculty and staff, use this route to reach campus each day.
Visitors traveling this route for events on Duquesne's campus should allow for extra-time, particularly during peak morning and evening traffic hours and for events in nearby venues, including the PPG Paints Arena. Visitors should also be aware that there may be other construction projects on or near campus during the closure.
Detour Information
The detour for vehicular traffic will be 2nd Avenue to Ross Street to Forbes Avenue, as shown in the map. Please allow for additional time if you travel this route during your commute.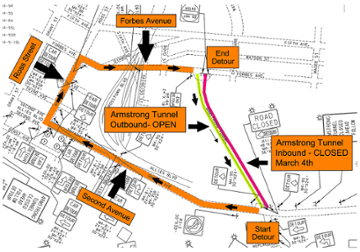 Student Information
The route for the University Southside Shuttle will also change due to the tunnel closure. The shuttle pick-up on campus will be in front of Gumberg Library. The stops will be:
11th and Muriel
15th and Muriel
20th and Wharton.
Due to traffic restrictions, the stop at 22nd and East Carson St. will be eliminated until the tunnel re-opens.
The tunnel will be closed when students return from spring break on March 6. Please be sure to allow for additional time when traveling to campus, especially during peak morning and evening rush hours. Students may also want to consider using public transportation, if possible.
In addition, trucks and buses will be detoured from 2nd Avenue to B Street to 1st Avenue to Grant Street to Boulevard of the Allies to Commonwealth Place to Liberty Avenue to 5th Avenue to 6th Avenue to Forbes Avenue.
While the upcoming construction will be inconvenient, the work will help better connect our campus to vital parts of the city. Thank you for your patience during this time.
Duquesne University
Founded in 1878, Duquesne is consistently ranked among the nation's top Catholic universities for its award-winning faculty and horizon-expanding education. A campus of nearly 8,500 graduate and undergraduate students, Duquesne prepares students by having them work alongside faculty to discover and reach their goals. The University's academic programs, community service and commitment to equity and opportunity in the Pittsburgh region have earned national acclaim.

It's time for bigger goals. Follow Duquesne University on Facebook, Twitter, Instagram and LinkedIn.
www.duq.edu


News Information
Topics
Published
February 20, 2023