Future-Focused, Hands-On Exploration
Three state-of-the-art media studios within the interdisciplinary, University-wide Center for Emerging and Innovative Media invite students, faculty, industry leaders and community members to produce professional broadcasts, podcasts, livestreams and pre-recorded content.
In this high-tech clinic environment, you develop the skills needed to be successful and experienced communicators in any industry. Are you a psychology or theology student interested in hosting a podcast? A biology or history major who'd like to make a documentary? A math or education student who wants to help tutor others on YouTube?
Any student from any program across campus can take advantage of these convenient, cutting-edge studios to explore their creativity, develop their portfolio or indulge in a new hobby! It's time for bigger goals.
Dynamic, Cutting-Edge Studios
A Media Student's Dream Come True
Liberal Arts student Baylee Martin, describes her experience working in the Union Broadcast Center as nothing short of a dream come true. "My dream career has been to work in broadcast journalism for as long as I can remember," she shares, "and the broadcast centers at Duquesne have allowed me to make my visions for myself and my career aspirations come to life."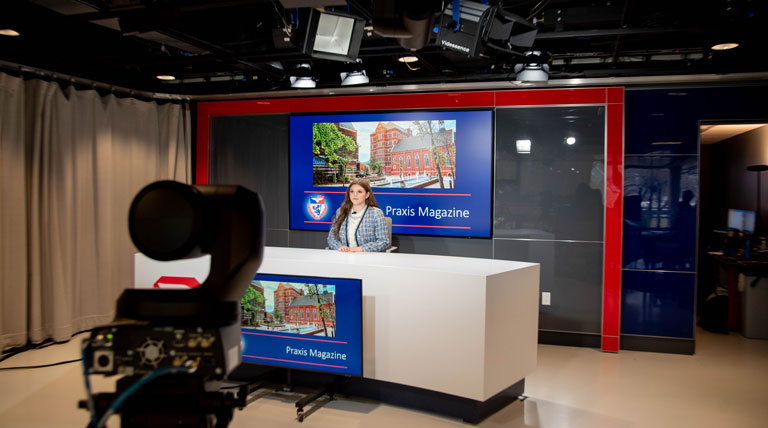 As assistant manager of Duquesne Student Television, Baylee produces high-quality content both in front of and behind the camera, alongside students who share her passion. "Getting together with a group of people with similar goals is a recipe for success—especially with the amazing tools at our fingertips in the Center for Emerging & Innovative Media."
Through an internship, Baylee works with local TV news anchor Mike Clark from WTAE's Pittsburgh Action News 4 as part of the video component of Praxis Magazine, a celebration of students, faculty, staff and alumni's accomplishments and good work. Baylee is also the lead news anchor for the first weekly newscast in the new broadcast center.
"I get to take my skills in writing, interviewing, editing and research to a new level by creating real projects that I feel confident about and extremely proud of," Baylee shares, "My work has a professional edge that I never thought I would get to experience at the collegiate level."
Bring Your Video Aspiration to Life
Imagine this: a green screen behind you, cameras before you and a technical team at the ready in the control room. Are you ready to bring your video aspirations to life? We're thrilled to help you make them happen.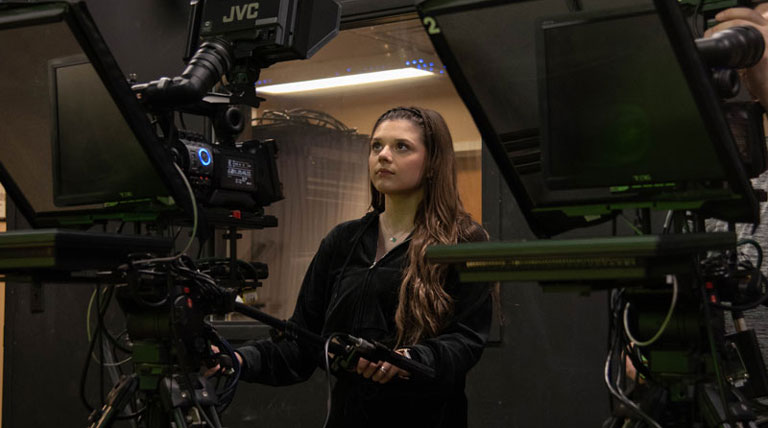 As General Manager of Duquesne Student Television, Michela Hall helps produce student-developed content in the College Hall TV Station and the Union Broadcast Center. She credits the studios as a place to express herself as an individual and personify everything she's learned in the traditional classroom.
"My work across the video production studios makes me feel entirely prepared to enter the field after graduation."
The large College Hall video production studio offers expansive and flexible space to get creative with a green screen, and also features virtual studio space, presenting countless possibilities to create anything you can imagine.
Opportunities to Expand Your Horizons
At our radio studio, conversation and creation thrive with a steady rotation of more than 30 live shows. Radio hosts can interview up to three guests together or go beyond with live remote guests. Whatever your dreams, we can help you achieve them.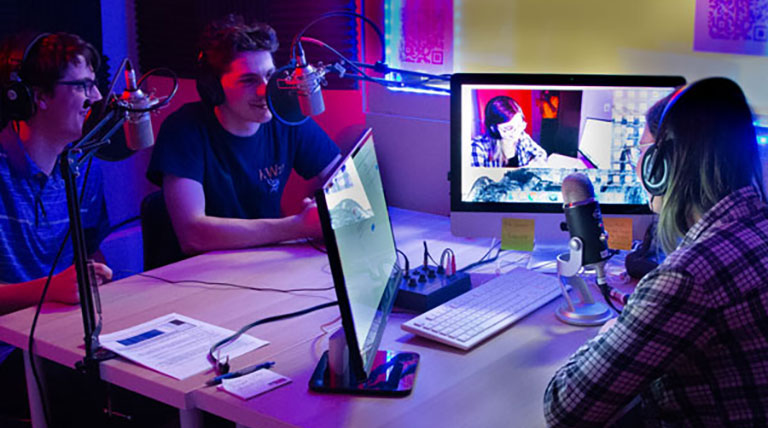 "It's my dream to work in the music industry but as a business school student, I never thought it'd be possible to get meaningful, hands-on experience at a radio station," Jade recalls.
"When I talked about my dreams with the team, I was offered the opportunity to become station manager! It has been incredible to learn the ins and outs of what makes a radio station successful, and collaborate with such creative individuals who have a huge drive for making the best shows possible."
Listen now to Duquesne's student-run radio station, WDSR.
Your Portal to the Media Industry
Students often collaborate with leading local and regional media professionals who visit and work in the CEIM studios. Broadcasters and industry executives work with students, share ideas and foster relationships through internships, coursework, guest lectures and networking events.
At the Center for Emerging and Innovative Media, you are guaranteed a rich industry experience to prepare you for your career ahead.
Working Alongside Media Professionals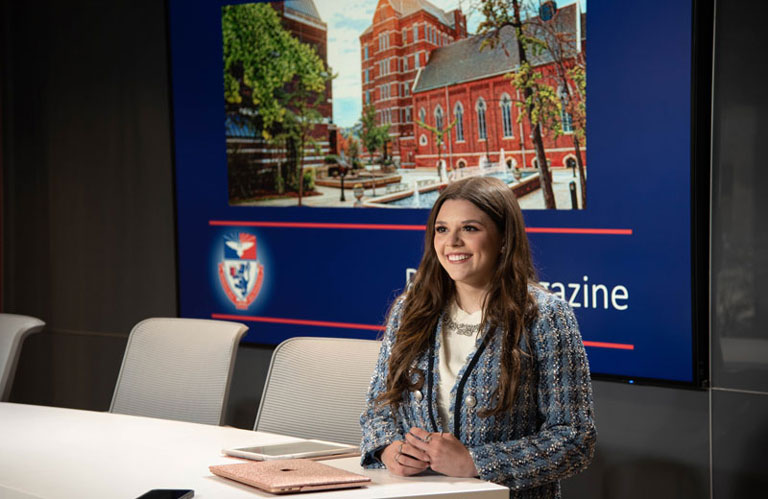 Meet the Director: Mentor & Leader of Students' Aspirations
As director of CEIM and a media professor, Don Maue's dedication to students' success is unmatched. Whether in the classroom or the studio, Don works side-by-side with students to bring their innovative, creative, fun projects to life. Together, he leads them to reach their dreams, and often more than they even imagined.

A 35-year veteran of the media and communications industry, Don's experience and leadership connects students with real-world expectations and opportunities.

Don has produced several documentaries and hundreds of classical musical recordings, co-authored several articles. He is well known in Pittsburgh radio as a producer and on-air host for WQED-FM and WYEP-FM.
Alum Turns Back to Duquesne to Pivot Toward Dream Career
Many of our media program alumni continue to achieve success throughout the local and regional industry at news outlets, media partners and independent ventures. Abby Krizner, B.A. '05 and M.A. '09, credits her success as program director for Pittsburgh's 105.9 The X to the support and guidance she received at Duquesne.
Music is such a big part of my life and I would have loved to be a full-time musician. However, I knew how difficult that road would be to pursue. A friend invited me to check out the student-run radio station at Duquesne in my freshmen year, and it really just felt like a playground for exploring new music, my own voice and creative marketing. I couldn't shake my love for it after I got involved.
Truth be told, I was very spooked in my final year that it wasn't a "smart" career choice. I heard so much discouragement from people who were actively in the industry that it was nearly impossible to land a job. The fear got the best of me, and I ended up following careers that fit with my psychology degree instead. I hesitate to call that a mistake, but I also knew deep in my heart that I was feeling very incomplete.
Almost two years later, I reached out to my past professors at Duquesne, who helped reset my course to actually follow my dream. I couldn't acquire an internship without being enrolled in some kind of educational program.
When I decided to return for graduate studies, they guided me through applying and tailoring a program that would prepare me to work in radio. My goals were ambitious, and they invited me to peek behind the curtain to help me make the best plan possible.
They also encouraged me to apply to be a teacher's assistant, which made the financial aspect much more realistic for me.
I've learned you have to strategize the things you say yes to professionally. When you're just getting started, it's okay to eat it all up and say yes to everything; it'll help you clarify what you enjoy and what you feel you're good at doing.
Now I try to plot out my schedule with no more than one large commitment a day. Some days that's an interview, some days it's my daughter's dance class. If I have a big task on my calendar already, I say no to adding anything else that day. It's good for my mental state of mind and allows me to do the best job I can do with the task at hand. Being fried all the time isn't good for you or anyone around you.
The radio audience is alive and well. In the last 10 years, we've expanded what that means: streaming apps, smart devices, social media campaigns and all of these new features that allow the audience to be a part of their favorite stations.
At the end of the day, I'm a "heavy user" of radio; I believe in it and use it every day. I grew up making silly voices, loved picking the playlist for every party and get a true visceral payoff when I get to introduce someone to a new band.
That's the constant for me in all of this. When the industry makes a big technological shift or I realize there's something new to learn, I have to ground myself with why I wanted to be here in the first place. I hope to continue to move through this career in a leadership role, but never forget to answer to the music-obsessed teenager inside.