Athletic Training
Duquesne University's strong liberal arts tradition and excellence in Health Sciences serves as the foundation for our dynamic Athletic Training Program curriculum. Our curriculum is designed to provide our students with a comprehensive Athletic Training experience, rooted in the basic sciences and health sciences. Our aim is to educate and train students to provide evidence-based, patient-centered care. For 30 years, we have been providing our students with a high quality educational experience that emphasizes critical thinking and decision making, and preparing them for the ever changing healthcare market.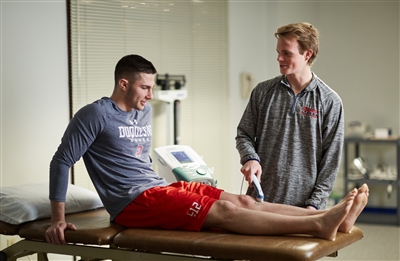 Students enrolled in our accelerated Master's degree program will earn a Bachelor of Science (BSHS) and a Master of Science in Athletic Training (MSAT) in five years. During the Pre-Professional Phase (Years 1-3) students will be immersed in a comprehensive health and exercise science curriculum, which will set the foundation for the Professional Phase (Years 4-5). The Professional Phase coursework will focus exclusively on athletic training and will provide students with rich learning experiences both in the classroom and clinically. Graduates of our program are prepared to practice as certified athletic trainers, which involves providing healthcare to physically active individuals in a range of practice setting.
Program Highlights
Nationally-acclaimed program devoted to preparing clinicians to deliver person-centered care
Direct admission into the Athletic Training major as a freshman
Four full-time faculty with clinical expertise and speciality areas
Curricular areas of distinction in orthopedic injury management, manual therapy, concussion & spine injury care, and interprofessional education and collaborative practice
Strong science-based curriculum including cadaver anatomy with dissection
An extensive network of clinical education placement sites and preceptors
100% overall Board of Certification exam passing rates and placement of our program graduates
Dedicated learning community located in the the vibrant city of Pittsburgh
Faculty committed to developing competent and confident athletic training professionals prepared to engage in clinical reasoning and provide optimal care.
Program Information
Duquesne University Athletic Training program combines classroom instruction, clinical experiences, and faculty support for future certified athletic trainers.
Degree
Bachelor's, Master's
Required Credit Hours
97 credits Pre-Professional Phase / 66 credits Professional Phase
Program Philosophy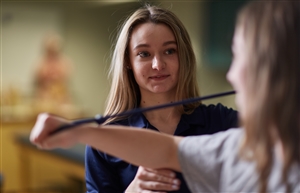 Athletic Training students are presented with a high quality liberal arts education, a comprehensive health and exercise science foundation, as well as opportunities to obtain a superior education in both the clinical and didactic components of the Athletic Training Program. It is our philosophy that students are to be given every opportunity to reach their full potentials as students, individuals, and healthcare professionals, and that at all times, students and faculty are required to strive to maximize those potentials. We demand excellence, expect excellence, and are never satisfied to accept the status quo. The Athletic Training Program also firmly believes in evidence-based practice and encourages all members of the Program in their development, advancement, and dissemination of research and scholarship that underpins the practice of medicine, Athletic Training, and other health sciences.
Vision, Mission, and Goals
The Department of Athletic Training is committed to engaging in contemporary practices to promote and advance whole-person healthcare both locally and globally.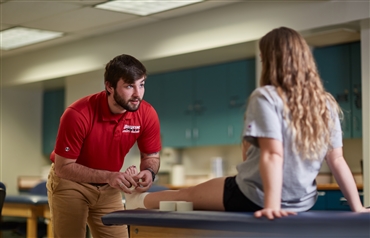 The Department of Athletic Training is committed to providing a person-centered education that empowers students to make evidence informed decisions and engage in interprofessional collaborative practice.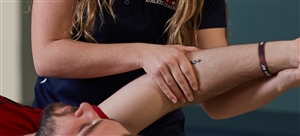 As a Department we aim to:
Develop competent and confident athletic trainers
Foster the development of clinical decision making and critical thinking when dealing with all aspects of patient-centered care
Promote the importance of research through the engagement and application of evidence in clinical practice
Provide students with opportunities to learn from, with, and about other healthcare professions as they relate to patient care
Prepare students to understand, integrate, and apply knowledge related to the delivery of global healthcare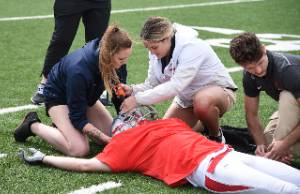 Pre-Professional Phase
The Pre-Professional Phase (Years 1-3) of the curriculum provides students with a strong liberal arts & science foundation, and a Health Sciences experience that will provide them with the knowledge and skills required to be successful during the Professional Phase.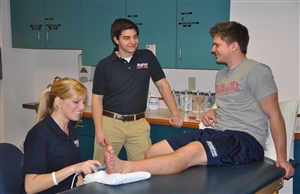 Professional Phase
The Professional Phase (Years 4-5) provides students with a rigorous and stimulating academic experience, designed to prepare them to become certified athletic trainers. Through a combination of lecture, laboratory, and clinical education experiences, students gain the knowledge and skills to be highly competent, patient-centered healthcare providers.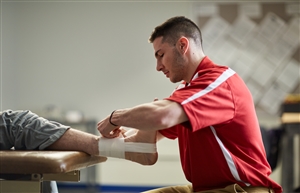 Clinical Education
Students will engage in a series of clinical education experiences across their two years in the Professional Phase. These experiences, which will include 2 immersive experiences, are designed to provide students with numerous opportunities to further develop, refine, and apply their knowledge and skills in a clinical environment.
Accreditation & Student Outcomes
Duquesne University's Athletic Training Program is accredited through the Commission on Accreditation of Athletic Training Education (CAATE). The program was granted continuing accreditation in 2017 and will undergo its next comprehensive review in the 2026-2027 academic year. The program applied for and was granted approval by the CAATE to change the level of its degree to a Master's degree in 2021.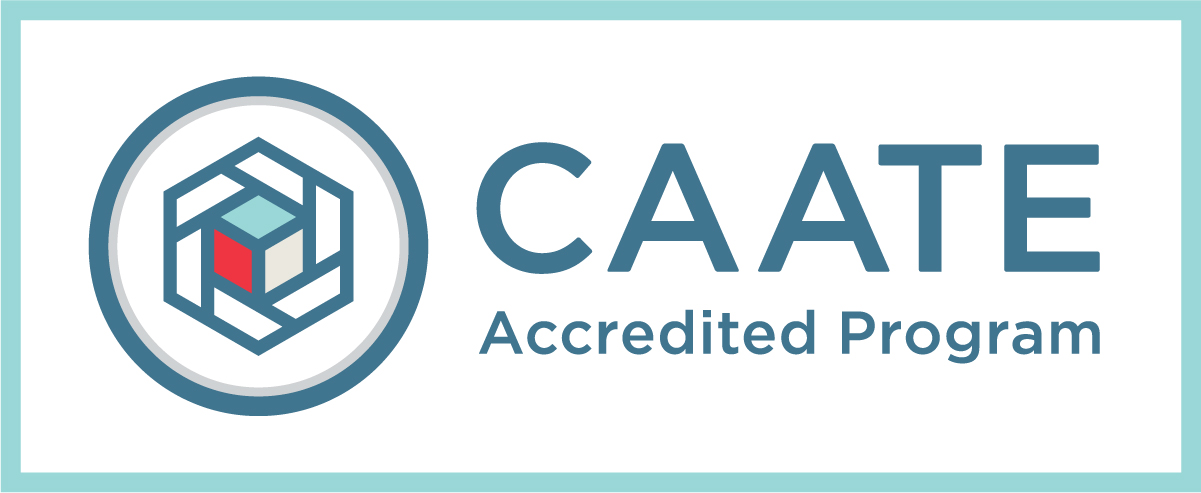 To submit a complaint to the CAATE use the following link https://caate.net/file-a-complaint
Board of Certification Results
Our Athletic Training students have historically achieved tremendous success on the national board exam. Duquesne's Three-Year (2020-2022) Aggregate First Time Passing Rate is 92% and the Three-Year Overall Passing Rate is 100%. Follow this link https://caate.net/Program-Information-and-Outcomes/53 for additional information related to BOC passing rates, graduation rate, placement rates, and program retention.
| | Program Graduates | Program Graduates Taking the BOC Exam | Program Graduates Passing the BOC Exam the First Time | First Time Passing Rate for the BOC Exam | Program Graduates Passing Overall | Overall Passing Rate for BOC Exam |
| --- | --- | --- | --- | --- | --- | --- |
| Class of 2023 | 5 | 5 | 5 | 100% | 5 | 100% |
| Class of 2022 | 7 | 7 | 7 | 100% | 7 | 100% |
| Class of 2021 | 8 | 8 | 6 | 75% | 8 | 100% |
| Class of 2020 | 4 | 4 | 4 | 100% | 4 | 100% |
| Class of 2019 | 10 | 10 | 10 | 100% | 10 | 100% |
The Program's Overall Passing rate is 98.8%, which represents the percentage of students over the 30 year history of the program that successfully passed the BOC Examination (351/356 students).
Admissions Requirements
Direct Admissions to 3+2 Bachelor of Science in Health Sciences/Master of Science in Athletic Training
As a direct admit program, students are admitted directly into the athletic training major in their first year. Admitted students must have a minimum high school QPA of 3.0 (including 4 units in English; 1 unit in social studies or language, 7 units in mathematics and science; and four elective units), evidence of extracurricular activities during high school, and be able to meet all of the medical and performance/ technical standards of the program. As part of the application process, students are required to complete a personal essay. With respect to our admissions process, we are a test optional program and therefore SAT/ACT are not required as part of your application. However, test scores will considered as part of the academic award/scholarship process if submitted. International students must have a TOEFL score of at least 550 and demonstrate the ability to communicate orally in English.
Students may also transfer into the Athletic Training Program prior to the professional phase. Students interested in transferring into the program must have a minimum GPA of 3.0 and have demonstrated "B" grades or better in science courses. Students must also be able to meet medical technical standards of the program and will be required to complete a personal essay describing their interest in athletic training and the program.
During the pre-professional phase of the program Athletic Training, students are required to acquire a minimum of 50 hours of clinical observation/experience in athletic training before being admitted into the professional phase of the program. Students who meet all pre-professional program requirements will be admitted into the professional program.
Master of Science in Athletic Training Graduate Admissions
Students interested in pursuing our Athletic Training Program as a post-baccalaureate Master's degree program must meet the following requirements for their application to be reviewed.
Undergraduate degree from a four-year, degree-granting institution
A GPA of 3.0 or higher on a 4.0 scale
Completion of pre-requisite course work with no less than a "C" grade in all prerequisite courses which includes:

Two courses with labs in Biology and Chemistry;
One course in Physics;
Three (3) credits in Introduction to Biostatistics/Statistics;
Three (3) credits in Psychology;
A two course sequence (six [6] credits) in Anatomy with labs
Kinesiology or Biomechanics (three [3] credits);
Physiology (three [3] credits);
Nutrition (three [3] credits);

Documentation of a minimum of 50 hours of athletic training shadowing experience. These experiences must be with a licensed athletic trainer.
Two professional references (references will not be accepted from a family member or friend)
If offered admission, the following will also be required:
CPR certification (adult, infant, and child) for Health Care Providers
Verification of all Pre-Clinical Health Requirements
Physical exam
Verification of Health Insurance
Apply for graduate admission.