Duquesne University School of Nursing is thrilled to announce the newly established Catherine Arenz Casile Endowed Nursing Scholarship, which was made possible thanks to the generosity of Thomas W. Arenz.
Catherine Arenz Casile was a "great mom" to four children, who "loved nursing, teaching and working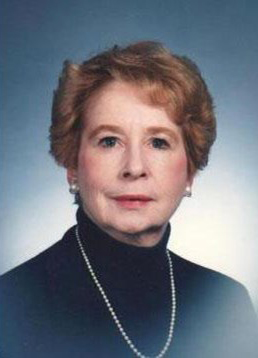 with young people," according to her oldest son, Thomas. Catherine spent her life dedicated to both the nursing profession and others; she worked as a registered nurse and Assistant Director of St. Joseph's Nursing School in Louisville before becoming a mother in 1957. She later received her MSN from the University of Pittsburgh, and taught nursing at three Pennsylvania Nursing Schools, including Duquesne University. She received the Excellence in Teaching Faculty Award during her time at Duquesne, and received a second Masters of Public Education Management from Carnegie Mellon University in 1988. Thomas chose to create this endowment fund to honor his mother's lifelong pursuit of education and nursing excellence.
The newly endowed fund will enable Duquesne to begin awarding partial scholarships to nursing students as early as Fall 2023. "This generous gift comes at a crucial time as the United States is experiencing both a nursing and a nursing faculty shortage," says Dr. Rick Zoucha, PhD, PMHCNS-BC, CTN-A, FTNSS, FAAN, Professor and Chair of Advanced Role and PhD Program at Duquesne University School of Nursing. The average nursing professor is over the age of 50, and a wave of faculty retirements is expected over the next decade.
The new endowment, which will fund two $10k scholarships annually across undergraduate and graduate programs, will allow Duquesne Nursing to critically examine the healthcare landscape and determine where support is most needed to address the shortage.
"At this time, we see a growing need for more PhD prepared nurse educators," says Zoucha. "The Catherine Arenz Casile Endowed Nursing Scholarship will encourage perspective students to apply for the PhD program and potentially receive funding to complete the degree.
"By removing financial barriers, we can increase the number of PhD prepared nurses," says Zoucha. "We will have an impact on the potential to increase the number of nursing students admitted to programs and relieve the nursing shortage." Zoucha believes this donation will change the lives of these students and further inspire Duquesne's mission of preparing the next generation of nursing leaders.
Duquesne's nursing programs are consistently ranked among the nation's best by U.S. News & World Report and BSN students routinely exceed the first-time pass rate averages on their national council licensure examination (NCLEX).