Just months after announcing a plan to create an array of engineering programs and rename its new School of Science and Engineering, Duquesne University President Ken Gormley announced that the University has received a major gift to name the first endowed chair in the new school.
The Costello Family Endowed Chair in Engineering will help the University recruit and retain an outstanding associate dean and senior faculty leader to help guide its new engineering programs. The Costello Family Endowed Chair's prominence and expertise will help shape the programs and attract talented engineering students to Duquesne.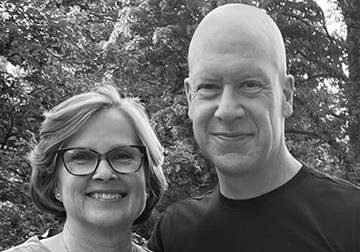 The significant gift from Matthew Costello, a 1995 Duquesne graduate, and his wife, Liselott, arrives at an important time for Duquesne's School of Science and Engineering, as its early-access engineering program debuts this fall and additional programs are being developed. Matthew Costello is a 1995 graduate of Duquesne's McAnulty College of Liberal Arts.
"We're grateful to Matthew and his wife Liselott for their generous gift that will help launch this important new school," Gormley said. "By helping us attract a strong engineering leader and professional, the Costellos' gift will allow us to create a world-class constellation of engineering programs. That will, in turn, help us to educate future engineers who will pursue their profession with the benefit of Duquesne's distinctive orientation toward service."
A global leader who has served in various executive roles across three continents, Costello is now a vice president of hardware engineering at Apple who helped spearhead the development of Beats Electronics and Beats Music with legendary west coast rapper Dr. Dre and music industry mogul Jimmy Iovine. When Beats was later acquired by Apple, Costello helped lead the integration of the two companies.
"It is wonderful to give back to a University that has given me so much," said Costello, who earned a bachelor's degree in economics and government while at Duquesne. "The Spiritan community has been a grounding point in my life. The Spiritan values of faith, love and humility formed me. So it is really exciting to support Duquesne as it launches programs that will help develop not only great scientists and engineers, but also great people."
The new School of Science and Engineering, which includes an already successful program in biomedical engineering, builds on the University's strengths in physics and engineering-related disciplines. The new undergraduate engineering curriculum allows students to start with general engineering coursework in their first year and then choose an engineering concentration during their second year.
Duquesne University Provost David Dausey said that in addition to biomedical engineering, the University plans to offer degrees in systems engineering, mechanical engineering, environmental/energy engineering and engineering physics in fall 2024. Dausey noted, "These new engineering programs in development build on the University's strengths in STEM and provide our students with more opportunities in a growing field."
"This is an exciting time for the University and our new School," said Dr. Ellen Gawalt, dean of the School of Science and Engineering. "Our array of offerings in the sciences, excellent faculty and focused class sizes make Duquesne an exciting and attractive option for students pursuing an engineering degree."
The new school arrives at a time when the demand for engineers continues to rise in the U.S. Nearly 140,000 new engineering jobs are projected to be available by 2026, according to the U.S. Bureau of Labor Statistics.
Duquesne University
Founded in 1878, Duquesne is consistently ranked among the nation's top Catholic universities for its award-winning faculty and horizon-expanding education. A campus of nearly 8,000 graduate and undergraduate students, Duquesne prepares students by having them work alongside faculty to discover and reach their goals. The University's academic programs, community service and commitment to equity and opportunity in the Pittsburgh region have earned national acclaim.

It's time for bigger goals. Follow Duquesne University on Facebook, Twitter, Instagram and LinkedIn.
www.duq.edu


News Information
Topics
Published
August 23, 2023