Supply Chain Management
Advance your career in logistics

Extend your professional capacity and excel in a logistics career with Duquesne University's Master of Science in Supply Chain Management. Accelerate your career with our robust curriculum of business analytics and supply chain courses online and in hybrid classes. Duquesne equips you with expertise in forecasting, inventory and demand management, sourcing and distribution, global fulfillment and sustainability, making you a competitive candidate for high-level professional positions.
Duquesne's Master's in Supply Chain Management program is AACSB International-accredited and holds a STEM designation.
Learn more about Duquesne's MS in supply chain management

Engage in project-based learning and gain skills to succeed in an expanding job market. Rapid innovations in supply chain strategies and technologies require quick thinkers and deep understandings of complex factors in sourcing, distribution and demand management.
The Master of Science in Supply Chain Management program at Duquesne University is designed with flexibility and focus in mind-the essentials for furthering your logistics career. This STEM-designated degree can be completed online or through hybrid courses in two years or less to ensure that you maintain a competitive edge in your current and future professional roles.
To ask further questions about the program, request more info, or attend an information session.
Program Information
Duquesne equips you with expertise in forecasting, inventory and demand management, sourcing and distribution, global fulfillment and sustainability, making you a competitive candidate for high-level professional positions.
Thrive in an in-demand field
Engage in project-based learning and gain skills to succeed in an expanding job market. Rapid innovations in supply chain strategies and technologies require quick thinkers and deep understandings of complex factors in sourcing, distribution and demand management.

By solving real industry challenges, collaborating with faculty and business leaders and identifying ethical considerations that undergird sustainable supply chain practices, you will launch into highly competitive roles in the global supply chain industry. Our state-of-the-art supply chain management facilities and resources equip you to:
Lead with integrity while building ethical, sustainable supply chains
Prepare for Six Sigma Yellow Belt Certification and APICS Certifications
Integrate cutting-edge technologies into new and existing supply chains
Access professional support through the Center for Excellence in Supply Chain Management
Build a diverse professional network with new SCM professionals and industry leaders
Take on manager and director roles in inventory, distribution, procurement, supply chain operations, supply management, performance improvement and corporate/division executive offices.
Our Focus
We focus on the development of advanced knowledge and skills for successful leadership in a variety of business functions such as, Forecasting, Aggregate Planning, Materials Planning, Supply Management, Operations, Transportation/Distribution and Customer Service.
Duquesne Difference
Information Systems are key to the development, growth and success of supply chains. Duquesne focuses on information systems throughout the integrated curriculum. You will use the most up-to-date technological systems in creative and analytical ways to enhance the overall effectiveness and efficiency of any supply chain. This includes advanced planning and scheduling, procurement management, and transportation and warehouse management systems.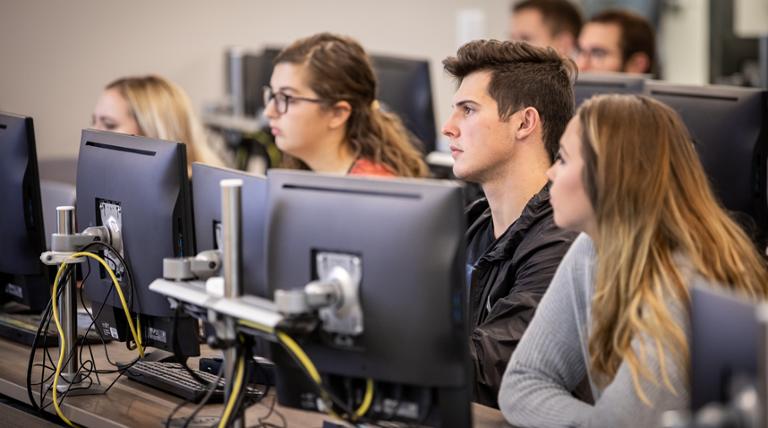 Solve Industry Challenges
We make it real! Our experiential learning approach provides you with the same challenges business leaders face every day. In collaboration with faculty, students, alumni and business leaders, you will use strategic management concepts to solve global supply chain issues through real-world projects. In your capstone class, you'll consult on a supply chain challenge with a non-profit or corporate partner. You will also establish deep connections with Supply Chain Management professionals and alumni.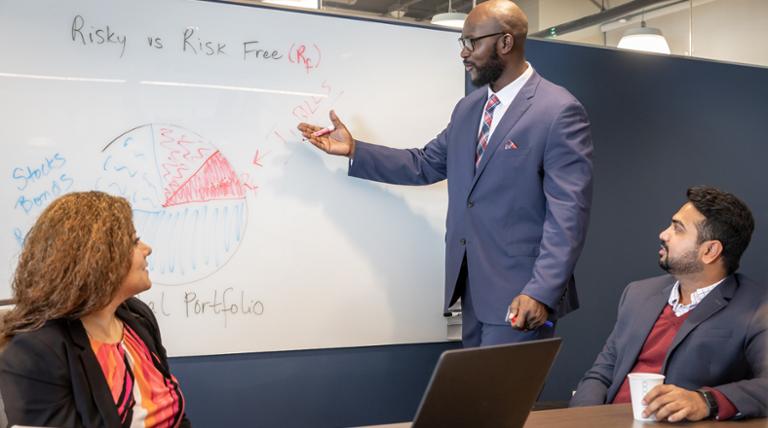 Become a responsible leader
Ethical considerations are faced every day in global supply chains. You will develop the skills to recognize and solve business problems from an ethical perspective and lead with integrity. You will also learn to apply sustainability principles in business decisions to drive value and competitive advantage.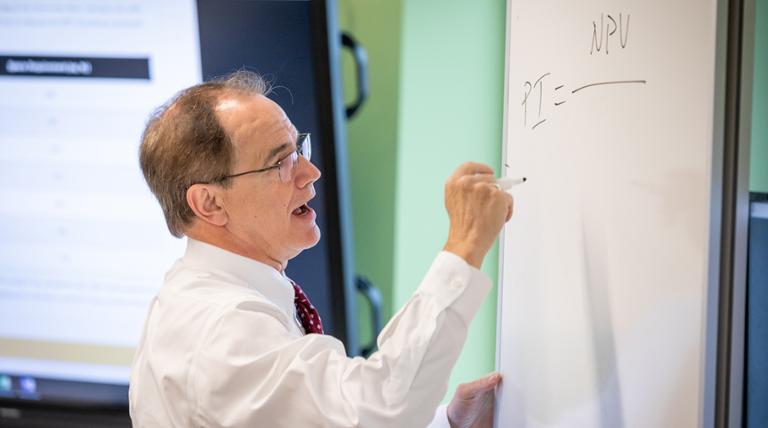 Passionate faculty with practical experience
You will learn from professors who are renowned scholars. Additionally, our faculty include executives with decades of diverse supply chain experience and a personalized learning approach, guided by an advisory council of distinguished leaders.
Maximum flexibility
Your MS-SCM studies should support your career commitments, so we've developed two parallel part-time learning formats for completing your Master's in supply chain management on a schedule that works with your professional responsibilities-and allows you to graduate in less than two years.
Hybrid in-person and online
With in-person evening courses every other week and asynchronous coursework on the opposite week, the hybrid MS-SCM degree provides maximum flexibility and networking opportunities to support a logistics career. The hybrid program can be completed in just five semesters and paves the way toward Six Sigma Yellow Belt Certification as well as APICS Certifications.
100% Online
Tailor your learning around your commitments with Duquesne's 100% online MS-SCM pathway. This cohort-based program offers primarily asynchronous sessions and experiential learning for students anywhere in the world. Network with global supply chain and demand management professionals through synchronous virtual meetings in the experiential project class and build upon your expertise in tandem with your ongoing career.


STEM-designated program
The Master's in supply chain management at Duquesne University is set apart by its STEM designation. In a highly competitive job market, STEM designated SCM degree programs distinguish candidates with interdisciplinary technical and mathematical skills, business acumen for solving complex business challenges and bold expertise for navigating unknowns in the future of business.
Curriculum and Course Descriptions
offered fall only

Supply Chain Management (SCM) is the business process that has evolved from the integration of the traditional business disciplines of forecasting, demand planning, materials planning, purchasing, production, operations management, transportation, inventory management, warehousing, packaging, materials handling, customer service, and related information systems. SCM focuses on efficient and effective customer satisfaction from the exchange of goods, services and information to complete the business transaction from supplier's supplier to customer's customer. This course provides insight into the goals and best practices of each business discipline included in the SCM process, and how these disciplines integrate to ensure a competitive advantage and corporate success. Students will assess industry specific differences in managing the flow of materials, goods, services, information and cash via the processes, technologies, and facilities that link primary suppliers through to ultimate customers for both service and product industries. Attention is given to important interrelationships between supply chain management the other corporate disciplines such as marketing, accounting, engineering, and financial management. Interdisciplinary managerial concepts are presented to show how a focus on the quality of service and product, and the integration of the supply chain processes offers great potential for improving corporate profitability and creating a sustainable competitive advantage. Online, Hybrid.

offered fall only

Information systems and technology enable SCM processes and operations to improve productivity and link to internal and external business partners. This course will address the strategy behind SCM systems development and integration, and will be supported by the systems and tools available in the SCM Center of Excellence. This course begins with a review of the fundamentals of information systems and technology and progresses to the role of ERP in enabling integration and visibility in SCM. The operational and decision support systems that support the five facets of SCM; Plan, Source, Make, Deliver, and Returns, will be reviewed from the perspective of the critical processes of each. Elements of project management and system analysis and selection will be discussed. Students will gain hand-on experience with SAP and various supply chain-related applications, such as supply chain design and data visualization. The course will provide students with the opportunity to study, analyze, and observe information systems and technology tools that enable inter-enterprise communications (i.e Electronic Data Interchange - EDI), collaboration (i.e. Vendor Managed Inventory - VMI, and Collaborative Planning Forecasting and Replenishment - CPFR), and enhanced data collection (i.e. radio frequency Identification - RFID). In addition, decision support systems such as Advanced Planning and Scheduling (APS), network optimization, Warehouse Management System (WMS), Transportation Management Systems (TMS), etc. will be discussed. Hands-on experience with some supply chain systems will be provided. This course supports the program goals by enabling students to develop a working knowledge of the information systems and technology required to efficiently and effectively manage internal supply chain disciplines, to integrate and collaborate with external business partners, and to make data-driven decisions. PR: SCMG 610 with a minimum grade of C. Online, Hybrid.

offered spring only

Students will evaluate legal entity choices (partnership, corporation, or LLC), capital structure (debt/equity), tax elections (e.g, S corporation), and co-owner protections. Legal options related to intellectual property (IP) protection (e.g., copyright, trademark, patent, and trade secret law) as well as key IP protection forms (e.g, non-disclosure, invention assignment, and employee confidentiality agreements) will be reviewed. Students will learn about early-stage funding and how to engage investors, including understanding initial stakeholders and applying relevant legal terminology (e.g, preferred stock provisions, liquidation preferences, dividends, voting rights, ratchets, and waivers of director conflict of interest). Finally, this course will review legal and regulatory matters (e.g., complying with SEC filings), as well as the basics of contract law. PR: ENTR 601 with a minimum grade of C. Online, Hybrid.

offered spring only

Having in place effective and efficient process improvement techniques can be a source of competitive advantage for firms. This course covers different techniques and tools that firms can use to become better problem-solvers and to continuously improve their operations and supply chains by applying the concepts of Lean and Six Sigma. Students may earn a Six Sigma Green Belt Certification through Moresteam, a Lean Six Sigma Training Provider, after passing an exam and completing a supervised project. PR: SCMG 610 with a minimum grade of C. Online, Hybrid.

offered fall only

Properly managing inventory is critical to both goods and service industries. This course will introduce the inventory strategies for a wide range of supply chains and present a variety of inventory planning methods for materials and finished goods based on market demand, risk, and variability. Upon completion of the SCMG 610 course and this course, students will be prepared to take the first APICS Certified in Planning and Inventory Management (CPIM) exam. PR: SCMG-614. Online, Hybrid.

offered fall only

Over the past four decades the process of purchasing and procurement have evolved from administrative support functions to strategic competitive differentiators for many organizations. This course will provide a strong foundation in supply management best practices in concert with the Institute for Supply Management's Mastery Model. Students will gain knowledge in negotiation preparation and execution and utilize the state of art negotiation facilities of the SCM Center of Excellence. SAP supply management decision support tools will be introduced and applied. Upon completion of the course, students with qualifying experience will be prepared to take the ISM Foundations of Supply Management exam toward becoming a Certified Professional in Supply Management (CPSM). PR: SCMG 612. Online, Hybrid.

offered summer only

For those businesses purchasing and producing products, the global physical distribution process is critical to competitive success. This course will provide insight into the operations and strategic integration of transportation modes and distribution center operations as well as distribution network design. The course will introduce innovative fulfillment strategies such as collaborative distribution and omnichannel fulfillment. The integration of Transportation Management Systems (TMS) tools provides a hands-on experience with supporting technology. Upon completion of the course, students will be prepared to take the exam to earn the ASCM Certificate in Logistics, Transportation, and Distribution (CTLD). PR: SCMG 612. Online, Hybrid.

offered spring only

As consumers and the industries that serve them have grown in social and environmental awareness, the focus on establishing sustainable supply chains has gained momentum. In addition to being financially successful, corporations must be environmentally and socially responsible. The strategic and operational decisions made to develop efficient and effective supply chains with operations and trading partners around the world shifts the primary responsibility for a sustainable business to supply chain management. This course will address risk management, best practices for sustainable supply chains and the trending supply chain management responsibilities. PR: SCMG-612. Online, Hybrid.

offered spring only

Supply chains must be developed in support of organizational strategies and goals. This capstone course will be focusing on aligning SCM strategies with corporate goals through application of the knowledge gained from previous SCM courses and experience. The APICS Supply Chain Operations Reference (SCOR) Model will be introduced along with other planning methods for developing SCM strategic business cases. A SCM experiential learning project will be developed throughout the semester with a final thesis required. Several simulations will be utilized to provide hands-on experience with the challenges of SCM, including a competitive game in which student teams manage a simulated business using an Enterprise Resource Planning system. PR: SCMG 622 & SCMG 624 with a minimum grade of C. Online, Hybrid.