First Five-Year, Entry Level Master's Degree for PAs
Emma Brinton recently graduated with a Master of Physician Assistant Studies degree. As a Duquesne University swimmer who competed in the U.S. Olympic trials, she credits her coaches and professors for the support needed to reach her bigger goals.
The Physician Assistant Studies program at Duquesne is the first-ever five-year, entry-level master's degree program in the nation. Because they are both teachers and active professionals, our faculty know this unique program can help you realize your goals.
Students like Emma become skilled health professionals licensed to practice medicine with physician supervision. Graduates are prepared to provide a broad range of diagnostic and therapeutic services in primary and specialty care in medical and surgical practice settings.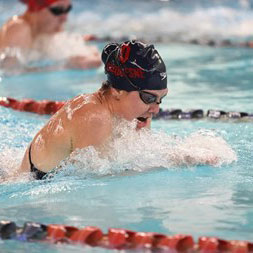 Read More About Emma's Story
Why Choose Duquesne's Physician Assistant Program?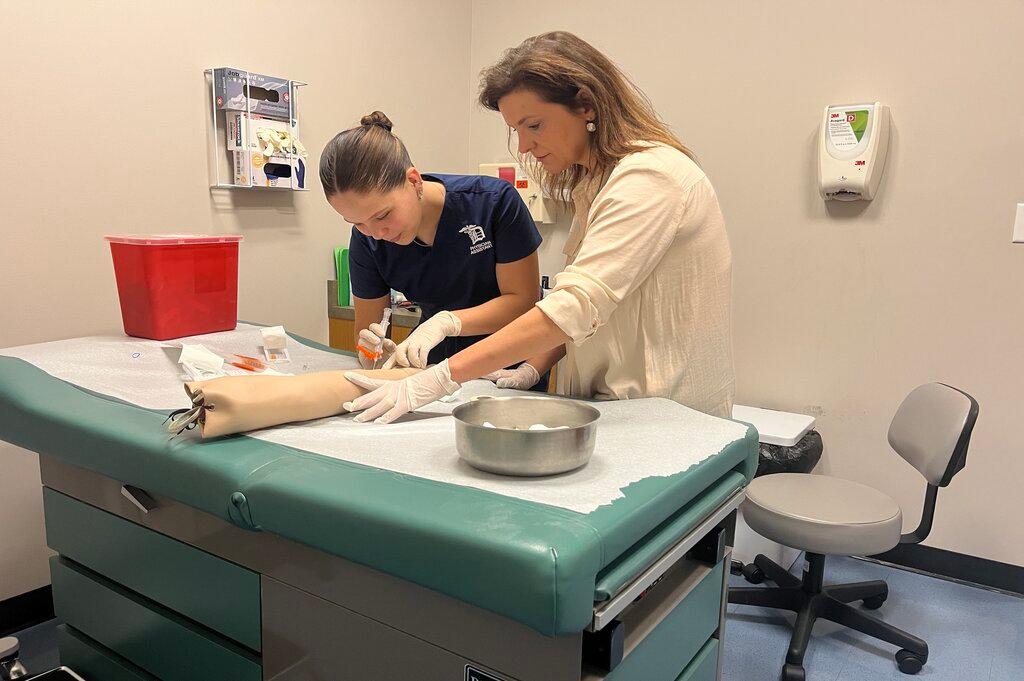 Preparing You For Anything
Students who complete the five-year curriculum earn both a Bachelor of Science in Health Sciences degree and a Master of Physician Assistant Studies degree. The program is completed in two phases. Pre-requisite courses throughout the three-year pre-professional phase provide the strong science background necessary for academic success in the accredited student phase. Pre-professional phase students meet with PA program faculty on a regular basis and have numerous opportunities to learn more about the program and the PA profession. Once the pre-professional phase is completed, students advance into the accredited phase of the program.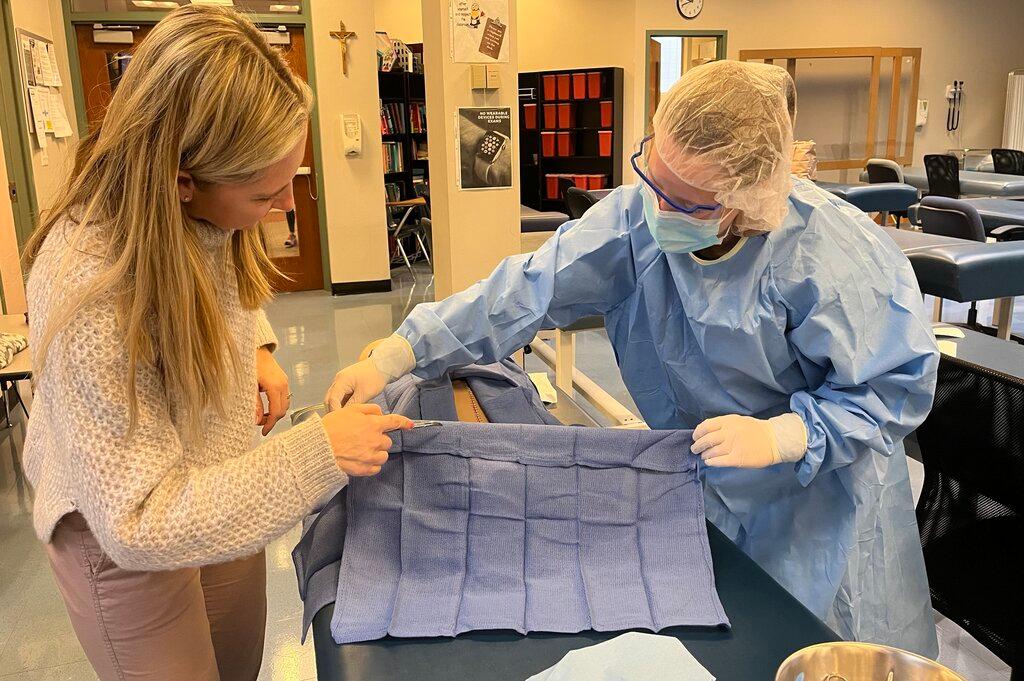 Our PA Program Stands Out
With over 800 successful graduates of the program, Duquesne University is recognized for educating highly qualified clinical practitioners. Our graduates perform exceptionally on the Physician Assistant National Certification Examination, and their clinical practice spans a variety of medical and surgical specialties. Guided by highly qualified and experienced faculty, students receive top-notch instruction in a state-of-the-art facility.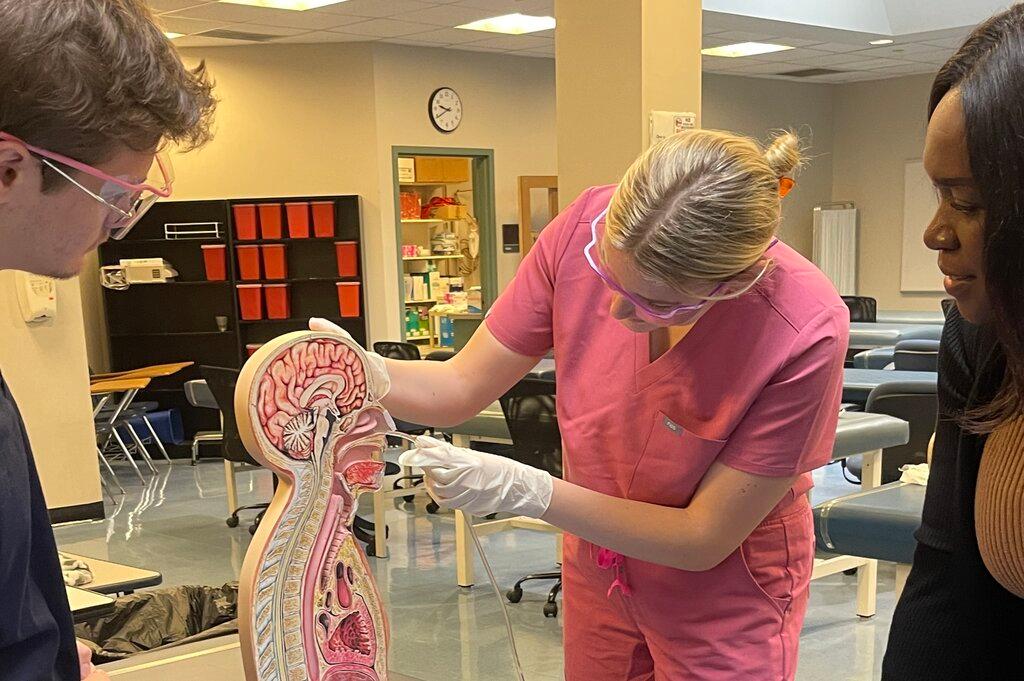 A Leading Model in PA Education
Duquesne's first-of-its-kind five-year program prepares students with the skills, experience and confidence to provide exceptional patient care—and we'll get you there in just five years. Though many PA programs across the country offer a master's degree, the few that offer an entry-level master's program require six or more years of education. Our five-year program gives you the education and experience you need to share your gifts with the world sooner than later.
Physician Assistant Program Curriculum
The pre-professional component consists of 91 credits of humanities, basic sciences and medical sciences. This educational component is completed in three academic calendar years.

The accredited component is completed over 27 months, consisting of 89 credits, and is divided into two phases.

Phase 1 is composed of 14 months of didactic and case-based courses in clinical and behavioral sciences, clinical laboratory science, and applied clinical skills.

Phase 2 consists of 12 months of Supervised Clinical Practice, in which students participate in the evaluation and management of patients in a wide variety of clinical areas. Students also participate in case-based coursework, as well as complete an evidence-based medicine Master's project, suitable for publishing.

Below you will find detailed information about our curriculum semester-by-semester. Course descriptions for all courses may be found in the University Catalogs.
Curriculum by Academic Year
Fall Semester - 16 credits
IPE Health Research Skills - 1 cr.
Writing & Analysis - 3 cr.
Biology I: Cells, Genetics, Development/Lab - 4 cr.
Fundamentals of Chemistry I/Lab - 5 cr.
Intro to Ethical Reasoning - 3 cr.
Spring Semester - 15 credits
Elements of Computer Science - 2 cr.
Preparing for Clinical Practice - 1 cr.
Writing & Literature - 3 cr.
Biology II: Diversity, Ecology, Evolution/Lab - 4 cr.
Fundamentals of Chemistry II/Lab - 5 cr.
Fall Semester - 17 credits
Clinical Microbiology/Lab - 3/1 cr.
Introduction to Psychology - 3 cr.
Disparities in Health Care - 3 cr.
Physics for Life Sciences I /Lab/Rec - 3/1 cr.
Health Care Ethics - 3 cr.
Spring Semester - 15 credits
Introduction to Biostatistics - 3 cr.
Essential Questions Seminar - 3 cr.
Cultural Fluency & Responsivity competency - 3 cr.
PHIL or THEO elective - 3cr.
Health Science elective - 3 cr.
Fall Semester - 14 credits
Communication and Professional Civility - 3 cr.
Anatomy I/Lab - 4 cr.
Physiology I- 3 cr.
Histology - 1 cr.
Medical Sciences I - 3 cr.
Spring Semester - 14 credits
Anatomy II/Lab - 4 cr.
Physiology II - 4 cr.
Medical Sciences II - 3 cr.
Psychological Disorders Applied - 3 cr.
Summer Semester - 13 credits
Introduction to PA Profession - 3 cr.
History & Physical Examination I / Lab - 3 cr.
Clinical Lab Methods - 3 cr.
Pathophysiology - 3 cr.
Introduction to Patient Counseling and Education - 1 cr.
Fall Semester - 17 credits
Clinical Medicine I / Lab - 3 cr.
Clinical Pharmacology - 4 cr.
Applied Clinical Methods I / Lab - 3 cr.
History & Physical Examination II / Lab - 3 cr. Pathophysiology II - 3 cr.
Seminar in Diagnostic Test Interpretation - 1 cr.
Spring Semester - 18 credits
Clinical Medicine II / Lab - 3 cr.
Clinical Encounters - 0 cr.
Clinical Seminar I - 3 cr
Applied Clinical Methods II / Lab - 3 cr.
Fundamentals of Pediatrics / Lab - 2 cr.
History & Physical Examination III / Lab - 3 cr.
Health Policy - 2 cr
Principles of Research - 2 cr.
Summer Semester - 11 credits
Clinical Seminar II - 3 cr.
Fundamentals of Surgery / Lab - 3 cr.
Clinical Medicine III / Lab - 3 cr.
Applied Pharmacology - 2 cr.
Fall Semester - 12 credits
PHYA 506 Clinical Seminar III - 3 cr.
PHYA 529 Clinical Externship I (Emergency Medicine) - 3 cr.
PHYA 530 Clinical Externship II (Behavioral Health) - 3 cr.
PHYA 531 Clinical Externship III (General Surgery) - 3 cr.
Spring Semester - 9 credits
PHYA 513 Essentials in Clinical Practice - 0 cr
PHYA 532 Clinical Externship IV (Pediatric) - 3 cr.
PHYA 533 Clinical Externship V (Primary Care - Family Medicine) - 3 cr.
PHYA 534 Clinical Externship VI (Primary Care - Internal Medicine I) - 3 cr.
Summer Semester - 9 credits
PHYA 535 Clinical Externship VII (Primary Care - Internal Medicine II Specialty/Women's Health) - 3 cr.
PHYA 536 Clinical Externship VIII (Elective) - 3 cr.
PHYA 540W Master's Independent Research / Study - 3 cr.
All students are assigned the above eight clinical rotations. The order in which the student completes each rotation may vary.

For those students who do not choose to complete a full women's health rotation as their elective or internal medicine specialty, each student must complete a 1 to 2-week women's health experience to satisfy the clinical requirements.

Students are not required to provide their clinical sites or preceptors. The Duquesne University Physician Assistant Program takes full responsibility for site development and maintenance. Students can recommend new sites for elective rotations and may provide additional leads to the Clinical Coordinator. The Program takes full responsibility for coordinating clinical sites and preceptors for all rotations.
Physician Assistant Informational Websites
You can learn more about what physician assistants do by visiting this website.
Frequently Asked Questions
FAQs about the Physician Assistant Studies Program

Due to capacity constraints, we are not accepting transfer or second-degree applications to the PA program. Any student with more than 12 post-secondary credits is considered a transfer student.

In the accredited phase, there are no provisions for advanced placement credit. The accredited phase must be completed in its entirety.

The PA program is completed only as a full-time cohort program. Regularly scheduled classes occur only during daytime hours The Accredited Phase begins in the summer, and students graduate 2 years later in August after successfully completing all academic requirements.

The rigorous, intense nature of the accelerated curriculum requires students to remain extremely focused and dedicated to their studies. In addition, the time demands of the class schedule may require occasional attendance on evenings or weekends. Most classes during the accredited phase are from 8 a.m. to 5 p.m. (Monday through Friday). During rotations, hours are variable depending upon the clinical rotation assignment. As such, it is highly recommended that students limit outside distractions.

Students in the PA program at Duquesne University complete their clinical rotations in various settings, including in-patient facilities, outpatient facilities, long-term care, and office settings. Rotations may occur at large teaching institutions or small, rural facilities under the supervision of experienced clinicians. Many clinical sites are located in the Pittsburgh area, while others may be located across the country. Students complete a total of eight rotations (each of which is approximately six weeks in duration). Required specialties include emergency medicine, family practice, internal medicine, internal medicine specialty, surgery, pediatrics, and psychiatry/behavioral medicine. All students will complete a 2-week women's health clinical experience. Students select one additional elective rotation to gain additional experience in a specialty of interest. Some examples of elective rotations include overseas opportunities, cardiovascular surgery, obstetrics and gynecology, orthopedics, dermatology, research, and burn unit.

The

tuition at Duquesne

is in addition to fees and expenditures that students should expect at the time they enter the accredited phase.

These expenses, such as medical equipment and white lab coats, are integral to the student's professional development.
Typical costs for all the equipment range from $300-$900, depending on the quality of the equipment.
Hospitals and other facilities require students to undergo criminal record history checks and child abuse clearances, approximately $20 each.
Students are also required to take an Advanced Cardiac Life Support training course, which costs approximately $135.
Students are also required to take the Physician Assistant Clinical Knowledge and Rating Assessment Tool exam (PACKRAT) each year of the accredited phase. This exam currently costs $45.
Travel, parking, and living expenses throughout the clinical year may approximate up to $2,000 depending upon site placements.
The current cost of the Physician Assistant National Certification Examination (PANCE), which is completed after graduation, is $550.
Students may also voluntarily choose to join PA professional organizations, including the PSPA and AAPA. Student membership in these professional organizations provides many advantages, including educational conferences, networking, and scholarship opportunities. Professional liability insurance for students during the accredited phase of their education is provided by Duquesne University at no additional cost.

According to the Bureau of Labor Statistics, employment of PAs is expected to grow through 2022 and beyond. The job market is the best that it has ever been and is expected to continue due to a variety of factors affecting the healthcare industry. Because of the flexibility of the role of Physician Assistants, PAs can fulfill vital roles in a variety of settings. Graduates of the Duquesne University PA program are employed in satisfying, rewarding positions throughout the country and as a rule, have had no difficulty in obtaining employment. For more information about the national employment trends, check out

www.bls.gov

.