The Duquesne University Center for Integrative Health (DUCIH) is committed to improving the health and wellness of our campus and neighboring communities through interdisciplinary practice, teaching and research. We provide chronic disease prevention and management programs from pediatrics through adulthood; and our students are trained in an interdisciplinary teaching, research and service model. The employee and student clinic is a provider of disease prevention and management services for the Duquesne University campus community. Community Health Initiatives include several community-based health programs, in collaboration with a diverse group of community partners, to meet residents where they are, decrease disease disparity, and promote health equity in Pittsburgh and surrounding communities. DUCIH programs focus on problems that have a high cost, high burden and significant racial disparity.
The DUCIH supports meaningful engagement with patients, communities and stakeholders to facilitate research that not only will improve health outcomes but the overall health care system.
Mission
The mission of the Center for Integrative Healthcare is to train the next generation of practitioners who will address rural and urban health care disparities and thereby improve health equity in the Pittsburgh region and beyond.
Goals
Establish and sustain Duquesne University as a nationally recognized model for integrative health and community-based care
Provide opportunities for interdisciplinary practice, teaching and research engagements
Engage students in population health and community-based teaching and research experiences to promote health equity in our region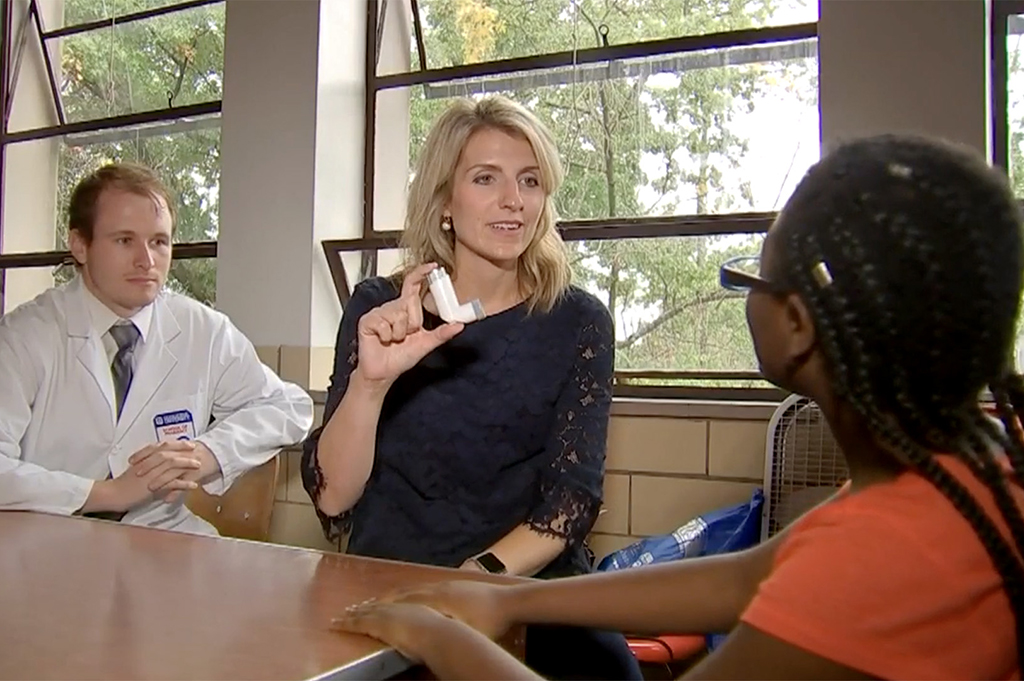 Asthma Care
Free Asthma Care available at the following eligible locations: Clairton City School District, Propel Hazelwood, South Allegheny Elementary, Woodland Hills Edgewood Elementary, Woodland Hills Wilkins Elementary
Contact The Program Director!
Asthma Home Visiting Program

Collaboration with Community Health Workers (CHWs) and the Allegheny County Health Department (ACHD) Healthy Homes Program to provide in-home asthma education, serve as a liaison for those enrolled in our clinics, provide care coordination and work with families on goal setting to reduce asthma triggers.

CDC Asthma Control Program

CDC's National Asthma Control Program (NACP) was created in 1999 and funds health departments in 24 states to ensure availability and access to guideline-based medical management and pharmacotherapy for all people with asthma to address the intersection of public health and health care. It funds state programs and national organizations, promotes asthma quality measures and informs policy makers about the burden of asthma. DUCIH is contracted through the Pennsylvania Department of Health to work on four of the six EXHALE strategies:
Asthma Self-Management Education (ASME)
Extinguishing smoking and exposure to second-hand smoke
Home visits for trigger reduction and ASME
Linkages and coordination of care across settings.
Asthma & Food Allergy Awareness

Interactive educational programming for children and their caregivers at school gatherings, scheduled lecture series for caregivers/school personnel, and interactive classroom sessions for children focusing on food allergy, asthma awareness and healthy living.
Pittsburgh Public Schools Early Learning Program
South Allegheny School District
Collaboration with several school districts and the Federally Qualified Health Centers (FQHCs) in each neighborhood to provide comprehensive, asthma care in the school and community setting, including diagnosis, pharmacologic and non-pharmacological management, education and coordination of care.

This model has consistently resulted in significant reductions in emergency room visits and hospitalizations for children with asthma as well as significant improvements in asthma control.

Current School & Community Partners:
Center Of Life Hazelwood
Clairton School District
Propel Hazelwood
South Allegheny School District
Woodland Hills School District
Current Provider Partners:
Children's Hospital Of Pittsburgh Of UPMC
Northside Christian Health Center (NSCHCS)–FQHC
Primary Care Health Services (PCHS)–FQHC
Squirrel Hill Health Center (SHHC)–FQHC
Vaccinations

The Center for Integrative Health works with various community partners to implement community-based vaccine clinics in locations accessible to all residents (churches, schools, community gathering spaces, public housing units).

Overdose To Action (OD2A)

Collaboration with the Allegheny County Health Department and community partners in Allegheny County to address opioid-related morbidity and mortality in Allegheny County. Activities include expanding existing surveillance efforts by obtaining new data and expanding prevention efforts by health systems and insurers, improving linkages to care for residents with opioid use disorder, building new diversion programs with law enforcement and launching a harm reduction communications campaign. Duquesne CIH is contracted to work on two strategies, strategy 6 (establishing linkages to care) and strategy 9 (empowering individuals to make safer choices).

Smoking Cessation

DUCIH has a contract through the Pennsylvania Department of Health to provide smoking cessation classes and support throughout Allegheny County. DUCIH offers in-person and virtual programs.

Health & Wellness Sports Camps

Partnership with Duquesne University Department of Athletics to provide day camps for schools and community organizations consisting of hands on health education and sports instruction.
Center For Integrative Health Team
Squirrel Hill Health Center (Clairton)
Primary Care Health Services (Hazelwood)
Northside Christian Health Center
East Liberty Family Health Center
Children's Hospital of Pittsburgh
Allegheny County Health Department (ACHD)
Clairton School District
South Allegheny School District
Woodland Hills School District
Northgate School District
Propel Schools
Pittsburgh Public Schools Early Childhood Programs
Center of Life
Greater Hazelwood Community Corps
Greater Hazelwood Community Collaborative (GHCC)
Hazelwood Initiative (HI)
JADA House
P.O.O.R.L.A.W.
Clairton CARES
Pine Run Methodist Church (Clairton)
Sisters Place, Inc. (Clairton)
Clairton Family Center
American Lung Association
Pennsylvania Asthma Partnership
Allegheny County Asthma Task Force
DUCIH has partnerships with several FQHCs throughout Allegheny County, providing teaching, research and service opportunities

Current FQHC Partners:


Primary Care Health Services
Northside Christian Health Center
Squirrel Hill Health Center
East Liberty Family Health Care Center
DUCIH has a partnership with the Housing Authority Of The City Of Pittsburgh (HACP) to provide chronic disease prevention and management services at all ten senior and five family communities throughout the City of Pittsburgh
The Heinz Endowments
Jefferson Regional Foundation
Henry L. Hillman Foundation
Allegheny County Health Department (ACHD) Clean Air Fund
CDC Racial and Ethnic Approaches to Community Health (REACH)
CDC National Asthma Control Program (NACP)
CDC Overdose Data to Action (OD2A)
State of Pennsylvania Tobacco Control Funds
Healthcare Compliance
Duquesne University takes Healthcare Compliance very seriously. The University abides by all Federal, State, and Local laws and ordinances. If you would like to discuss a healthcare compliance, includes HIPAA, complaint, please contact the Duquesne University Chairperson of Healthcare Compliance at (412) 396-4419 or mail a letter to:
Duquesne University
Office of HIPAA and Healthcare Compliance
600 Forbes Avenue
Pittsburgh, PA 15282
You may also hand deliver a note to Room 436 in Fisher Hall. All will be kept strictly confidential.