Get Involved!
Students in Speech-Language Pathology become involved in a wide variety of activities on and off-campus. While the academic program includes many opportunities to become involved in professional activities, Duquesne University offers the breadth of campus involvement opportunities to satisfy the personal interests of just about anyone.
As part of the academic program, students are able to preview the profession by attending conferences and conventions, interacting with students from other programs nationally and internationally, becoming actively involved in volunteer and service learning projects, and advocating for federal legislation that impacts the profession. Learn more about these professional student activities.
Research Opportunities
Jaimee Conmy, 4th year professional phase student, presented with Dr. Heather Rusiewicz, Dr. Panayiota Senekkis-Florent, and Brooke Baumann. Their presentation was titled, "Navigating Comprehensive-Contemporary-Clinical Education: Student's Self-Efficacy and Experiences." Jamiee was the recipient of funding to support her travel from the Office of Research & Innovation. Congratulations Jaimee!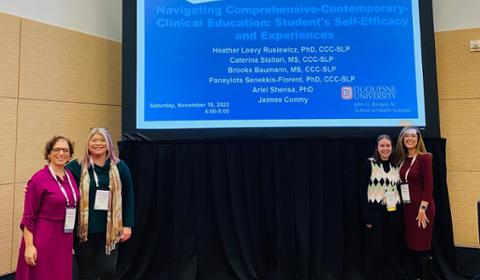 Brooke Yurick, 5th year professional phase student, presented with Dr. Heather Rusiewicz. Her presentation was titled, "Speech in the Spotlight: Integrating Music and Movement to Support Speech Development via Digital Platform."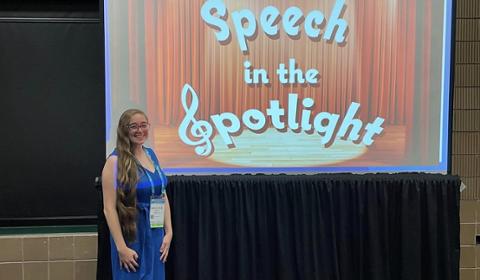 Michelle Catão, Kelsey O'Connor, and Marisa Ricciardi, who presented the results of their hard work at the ASHA Convention! Mentored by Dr. Abby Delehanty and Mrs. Lori Marra, these students spent the last year serving as "family navigators" supporting 9 families of infants and toddlers at risk for communication delays. Their project was supported by the Charles Henry Leach II Fund for Duquesne University and a travel grant from the DU Women in Stem. They were also selected as ASHA PROGENY recipients, a program that aims to PROmote the Next GENeration of Researchers.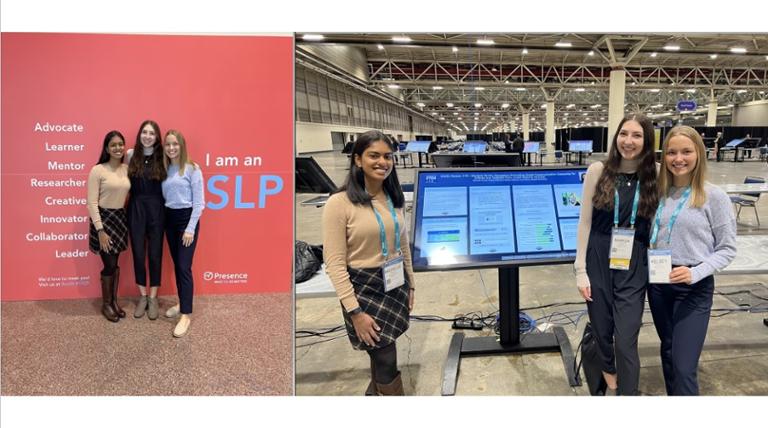 Outreach Opportunities
Duqathon: Duquesne's Dance Marathon
Duqathon is a Duquesne University student-run organization that partners with the Children's Miracle Network Dance Marathon, which is a program of Children's Miracle Network Hospitals, a non-profit organization that raises funds and awareness for more than 170 pediatric hospitals across North America. For more information, please contact 4th year SLP student, Moller Keller, Finance Director of Duquesne University's Dance Marathon Duqathon, at kellerm2@duq.edu.