Earn your Public Health or Health Administration bachelor's degree!
Make Your Mark on Healthcare
Are you ready to take make an impact on the rapidly evolving world of healthcare? At Duquesne, our students in the health sciences often combine Public Health (PH) and Health Administration (HA) coursework in order to tackle the complexities within the healthcare field. Be prepared to work through current health crises, such as COVID-19; solve global health care challenges and learn how to take on future health care needs.
Contact Us Today
Please complete our Sign Up form. We will provide you more information about Duquesne University and our PH/HA programs.
The Programs
Earn in-demand degrees in Public Health or Health Administration for a life-changing career that starts here. It's time for bigger goals and we can help you get there with bachelor's programs that takes you beyond the classroom.
Health Administration is an integration of healthcare, business management, and information systems. Health Administrators collect and analyze data, incorporate innovative management techniques, and utilize new technologies to reengineer healthcare. Health administration professionals are the inventors, innovators, and entrepreneurs for the constantly evolving healthcare delivery system. Interested in an occupation with growing job demand? Learn more about our program, hear from our students and explore our project and internship opportunities.
Public Health promotes and protects the health of people and the communities where they live, learn, work and play. Make an impact on public health locally and globally, conducting research, educating, and coordinating resources to prevent the spread of diseases. Earning your Public Health degree will take you to areas in the health field that you may not have thought of from policy and communications to biostatics and epidemiology. Whether you are interested in starting a career right away or gaining critical experience to prepare for medical schools, pharmacy schools, and other health related professional programs; we will help you reach your career goals through real-world cases, field work and coursework.
Our Graduates Are Going Places
Where can a Duquesne University Health Administration or Public Health degree take you? Here are just a few of the many opportunities that graduates from our Health Administration and Public Health programs are currently employed in:
Health Administration
| | |
| --- | --- |
| Project Managers | Systems Analysts |
| Accreditation Managers | Insurance Specialists |
| Medical Records Supervisors | Healthcare Consultants |
| Network Analysts | Program Analysts |
Public Health
| | | |
| --- | --- | --- |
| Community Health Worker | Health Educator and Outreach | Climate and Health Program Analyst |
| Emergency response planner | Public health advocate | Disease prevention specialist |
| Public Health planner | Public Health Inspector | Mental Health Advocate |
| Policy Analyst | Case Manager | Industrial Hygienist |
| Data Analyst | Research/Program Assistant | & more. |
Faculty Ready to Help You Succeed
You'll learn from diverse faculty who are recognized nationally and internationally as award-winning educators and experts in their field. At Duquesne, your professors are more than just teachers. They're mentors, world-class researchers and health care leaders who are invested in your success. They conduct groundbreaking research in areas like epidemiology, infectious disease, population health, disparities in health care and more. Gain knowledge in international health care policies, trends and practices through Duquesne's study abroad program. Visit duq.edu/study-abroad to learn more.
Ready to learn more? Sign up to receive information about Duquesne University and our PH/HA programs.
Featured content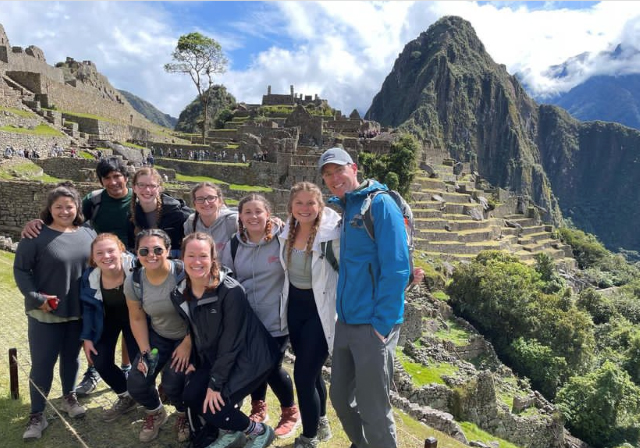 Origins of Preventative Health: Peru
This three-week immersive experience broadens student's global health perspective by discovering first-hand how the health situations vary widely in the country by examining the burden of disease, the health care system, and approaches to promote and restore health through traditional medicine and public health interventions.