On Tuesday, March 7, Alyssa Baljunas, a junior music performance major, won the 2023 Women's Advisory Scholarship Competition.
Alyssa studies cello with GRAMMY Award-winning Pittsburgh Symphony Orchestra cellist Adam Liu. Accompanied by pianist Kate Denman, Alyssa's winning performance of David Popper's Hungarian Rhapsody, op. 68 (video below) solidified her as the winner of the competition and its accompanying $5,000 scholarship.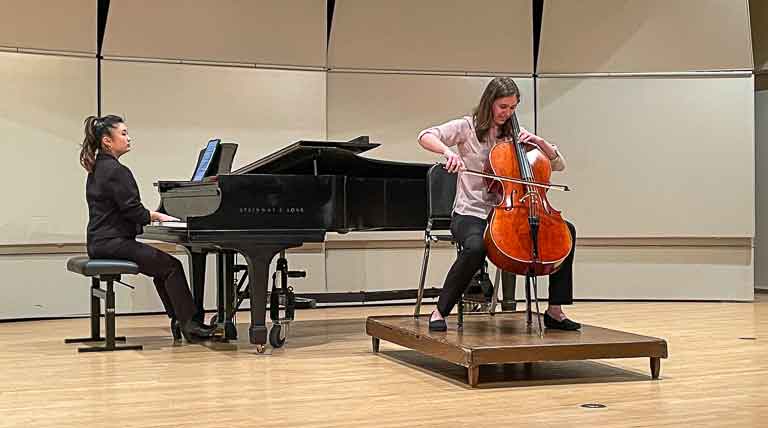 Each year, the Women's Advisory Board Scholarship Competition (WABSC) is judged by a group of three guest artists. This year, our judges included Adriana Helbig (Associate Professor of Music at the University of Pittsburgh), Lindsey Nova (Executive Director of Three Rivers Young Peoples Orchestras), and Timothy Stoddard (acclaimed operatic tenor). Following the performance, the judges offered feedback to all performers.
In order to compete in the WABSC, students must be juniors (qualified by completed credit hours) and maintain a GPA of 3.5 or higher. Our music faculty then choose the most outstanding representatives in their area from this list of qualified students, and these individuals are then invited to participate in the competition. Alyssa competed against six other MPSOM musicians including:
Gordon Cortney, percussion (studio of John Soroka)
Catherine Hammes, flute (studio of Jennifer Steele)
Abigail Hill, mezzo-soprano (studio of Xiu-ru Liu)
Anne Victoria Nasevich, violin (studio of Rachel Stegeman)
Natalie St. Hill, soprano (studio of Dr. Meghan DeWald Althouse)
Ethan Stainback, tuba (studio of Dr. James Gourlay)
Since 1980, the Women's Advisory Board has worked very hard to raise funds for scholarships to support students of the MPSOM, and we are incredibly thankful for their efforts over the years. Their efforts have benefited many students over the last four decades by offsetting the costs associated with the second-to-none education they receive from our immensely talented faculty.
Congratulations, Alyssa!
*photos courtesy of Dannon Johnson