Gussin Spiritan Division of Academic Programs
A first-year experience for students qualified through the admissions process
The Robert and Patricia Gussin Spiritan Division of Academic Programs or Gussin Spiritan Division (GSD) is a comprehensive network of academic programs, support services and faculty that help a select group of students strengthen their skills to become successful learners within their chosen programs of study while at Duquesne University-and beyond!
As a GSD student, you spend at least your first academic year enrolled in the program.
You join the hundreds of students who have built a foundation of academic success with the skills learned with the GSD to graduate not only with a degree, but also with competencies that improve their entire futures. Many have also continued to pursue graduate studies.
Division students are bolstered from the beginning with exceptional resources, such as immersive support from the Michael P. Weber Learning Skills Center.
You also find friendships and a community of support with other GSD students that can last a lifetime.
Questions? Check out our FAQs at the bottom of the page!
Program Information
Minimum first academic year, including mandatory summer session prior to fall start.
Explore all Spiritan Division & Learning Skills Center Services
GSD Student of the Year Award Winners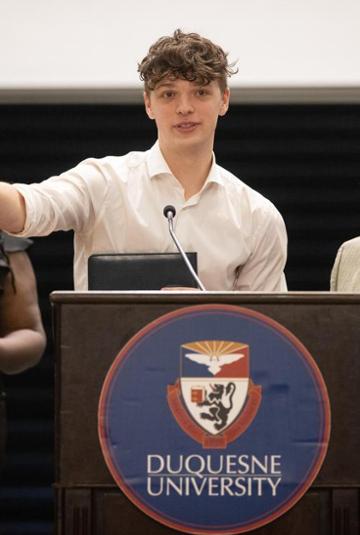 Owen's Journey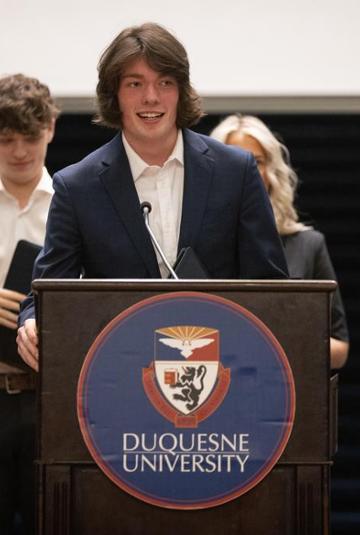 Why Gussin Won Out
Gussin Spiritan Division Leadership
Ground Floor Administration Building
Our Benefactors
Dr. Robert Gussin, P'59, GP'61, understands the difficulties many students face in the transition from high school to higher education.

A native of the Pittsburgh suburb of Scott Township, he faced obstacles when he first came to our Bluff.

His personal experience moved him and his wife, Dr. Patricia Gussin, to establish two generous endowments for Duquesne's Spiritan Division of Academic Programs.

He persevered through undergraduate and graduate pharmacy school, going on to a successful career and retiring as corporate vice president of Johnson & Johnson.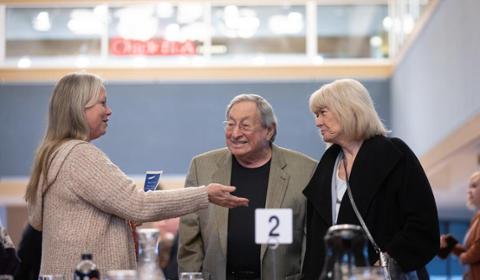 Dr. Gussin:
"As with many young folks coming out of high school, I think I was not really well prepared for college," Gussin said. "I struggled through the first two years without any extra help."
FAQs
Being a GSD student is its own special experience.

The Gussin Spiritan Division is an initiative that allows first-year students and students new to the University to grow and develop at their own pace. The Division's faculty and staff are selected for their dedication to helping each student achieve the highest level of academic success possible.



Follow the standard Duquesne University admissions process and the admissions staff will make a determination based on your application. If you qualify, the admissions team will notify you.

Admission to the GSD means that you are admitted to Duquesne so long as you enroll as a GSD student for at least your first year.

The GSD uses intellectual potential as the overriding criterion for University admission.

Apply

After the summer bridge portion of the program, students are fully matriculated in the fall semester and become Duquesne University students.

The only distinction is that you will be in the division for at least one full academic year and will transfer to the respective college that houses your major once the requirements for the division and the school/college are met.

The summer session is a total of 6 weeks involving both remote and in-person classes. It is split into two phases.

For the 2023-24 academic year, the first phase is conducted virtually and begins Monday, July 3rd, and ends Friday, July 21st.

The second phase, in-person, begins with the Parent-Student Orientation on Sunday, July 23rd. Classes begin the following Monday, the 24th and end on Friday, August 11th.

The closing ceremony is hosted the day after classes conclude, on Saturday, August 12th.

Retention Data for Freshman Classes:

First to second year retention from 1997 (inception of the division) – 2021
81% = GSD compared to
86% = university at large freshman class
Note: The fall 2021 to spring 2022 retention for the GSD freshman class is 79 %. The university at large freshman class is 92 %.

Graduation Rate for GSD & University at large:
58% = GSD (4 - year undergraduate degree) to
67% = University (4 - year undergraduate degree also includes GSD undergraduates)
47% = National
College and Schools Graduation Rates:

Students who began their courses of study at Duquesne as GSD students have graduated from every school of the University.

The following is based on 571 graduates as of spring 2021.

44.3% = Liberal Arts College, 40.3% = Business, 8.9% = Education, 2.1% = Natural and Environmental Sciences, 2.1% = Nursing, 0.5% = Music, 1.1% = Health Sciences, 0.4 = Pharmacy, 0.4 = Leadership

Gussin students benefit from a number of services that empower them as lifelong learners.

Academic
Personalized advisement
Early registration
Small classes
Free and unlimited tutoring throughout undergraduate studies: individual, small group, workshop, and seminar
Reading specialists
Computer and writing labs
Quality Point Average projection
Service-learning opportunities
Book discussions
First-year electronic portfolio reviews
Review and Support
Weekly meetings with academic advisors
Attendance tracking with outreach if needed
Academic progress reports on all students
Academic intervention committee meetings
Three faculty meetings per semester
Counseling
Individual
Small group
Personal adjustment
Financial
Career
Assessment
Individualized prescribed services based on diagnostic testing
Fall and Spring assessment and review
Student assessment of faculty instruction
Faculty assessment of Division services
Division exit interview
Additionally, all GSD staff members are

Certified Academic Life Coaches

.

Academic Life Coaching

In general, once you complete the GSD curriculum, you may declare your major and complete an internal transfer to the college / school where you have been admitted that houses your major.

If you have not completed the GSD curricular requirements and/or the internal transfer requirements of your school of major, i.e. minimum QPA, you will remain in the GSD until you are able to transfer.

Check with the

GSD Academic Advisor/Student Success Coach

for clarification.

Yes, as a GSD student you take the same courses as other first-year students, and these courses count towards your degree, either as BRIDGES or elective courses.

The only change in your curriculum requirements involves the mandatory Field Observation course that spans both semesters, along with the required summer coursework.

You will take the same number of credits during your first year, but they will be spread out to include the summer session, therefore making the fall and spring courseload a bit more manageable.

The GSD operates as a cohort model, and you will be with each other in a series of "anchor" courses.

These are University BRIDGES courses and are taught by faculty hand-selected for their dedication to and experience in working with students within the framework of the Division's philosophy, which is to provide the broadest possible support so that the student can be academically successful.

The remainder of the freshman courses, including introductory courses in the intended major, will be with the general University population.

Perhaps! Most majors require you complete 120 or more credits to be eligible for graduation—no matter how many years it may take to earn those credits.

It is critical, however, that those credits be in courses listed by your school as satisfying the requirements for the major and degree. Some programs, such as Pharmacy, Nursing, and Health Sciences, require more credits and generally cannot be completed in four years.

Staying in touch with the GSD Academic Advisor/Student Success Coach will ensure you stay on track in your academic program!
Ground Floor, Administration Building
Monday to Thurs.: 8:30 a.m. to 10 p.m., Friday: 8:30 a.m. to 8:30 p.m.