M.S.Ed. Instructional Technology alum Anna V. Blake adapts and excels.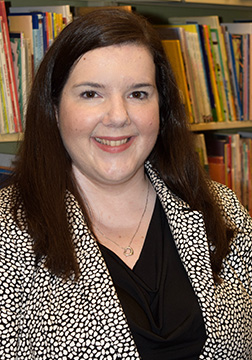 As K-12 schools closed throughout the U.S. due to the coronavirus epidemic, Anna V. Blake's 400+ elementary school students at Elizabeth Forward School District had their iPads primed, ready to learn. Duquesne's School of Education alumna, Anna was ready to lead. Anna is the Elementary Technology Integrator at Elizabeth Forward School District located in the Greater Pittsburgh Region.
From a technology and instruction standpoint, students' transition to complete virtual instruction in Anna's classroom was seamless as their learning experience at home is aligned to their work in the school building. Anna notes that her district had the leadership, resources, and insight to handle the transition to virtual learning from home seamlessly, not only for the students but for the faculty and staff as well.
Additionally, Anna worked with colleagues all year for professional development on the school district's Learning Management System (LMS), Canvas. The faculty was ready. Anna credits her superintendent, Dr. Todd Keruskin for having the foresight to implement 1:1 iPads with full support, and her supervisor Director of Digital Teaching and Learning Steven Hartnett for continued help implementing Canvas. In a time when we are physically distanced, technology connects everyone. The faculty and staff have weekly meetings, share info in Canvas, and each have their own Twitter account so all can learn about their colleagues' latest innovations, tips, and tricks.
Anna spoke about her phenomenal team of teachers and tech colleagues at Elizabeth Forward who similarly have graduated from Duquesne's School of Education. They shared, learned, and grew at Duquesne, and now they are in the field as a team. Blake said, "Duquesne has such a name in the field of technology, they propelled me". Anna's insight and passion for integrating technology and education has allowed her to implement technology to advance the education platform amongst new challenges.
After completing her master's degree at Duquesne, Anna secured her first job teaching second grade in Raleigh County, West Virginia where she was also a tech coach and developed an iMac lab for her students, all while pursing the online graduate Instructional Technology Certificate Program[BROKEN LINK] at Duquesne. While in the program, she had the opportunity to integrate what she learned in actual K-12 classrooms and engage with educational technology companies in the field such as BirdBrain Technologies. After completing the certificate program and two years of teaching in West Virginia, Anna landed her current job at Elizabeth Forward.
The youngest students in Anna's K-5 Computational Thinking and Computer Science (CTCS) classes learn the fundamentals of computer science and build on them in later grades as they learn to code, build robots and apps, compete in robotic competitions, and even program with industry-level applications such as Swift - which is the actual coding app that Apple's computer programmers use. Anna said, "All the fun projects always relate back to: can we troubleshoot, debug, and problem-solve this task?".
At Elizabeth Forward, Anna uses technology and education to prepare students to become 21st-century problem solvers as she designs creative lessons that align with the Computer Science Teachers Association (CSTA) and the International Society for Technology in Education (ISTE) standards. Through engaging with technology, students learn computational thinking and problem-solving. Technology advances so rapidly from generation to generation, and with unexpected paradigm shifts, so Anna prepares her students with the troubleshooting and critical thinking skills to tackle whatever will be before them. Additionally, Anna creates a safe learning environment where collaboration is key and she communicates to her students that "it's ok to make a mistake...take a deep breath" ... and "keep going, keep collaborating". With this approach, she also keeps in mind the socio-emotional needs of learners at each K-5 grade level.
Furthermore, in this time of complete virtual learning, her students are collaborating and problem-solving together through discussion boards. If a student has a problem with an app, they post to the board and another student will type, "if you can't open the app, just delete, and reload"; and then another will offer an additional way. Anna reflects on the change to virtual instruction, "even though students are siloed in their own houses, technology has given students a chance to share and work together in ways they couldn't before."
When asked about the transition to complete virtual instruction during the epidemic, Anna warmly laughed, "These kids are excited to continue to learn...one parent sent a picture of a student smiling while doing an assignment on an iPad." Anna reflected on that moment and said it's about, "bringing that joy...using technology and giving that joy to the kids." Anna is a tremendous example of the adaptational abilities and creative problem-solving that dedicated teachers are using to keep learning going forward.
News Information
Published
October 28, 2022