(Welcome Letter from Law Library Director, Dana Neacsu)
Dear members of the Duquesne Center for Legal Information (DCLI) community, at Thomas R. Kline School of Law of Duquesne University:

As we get ready for our 2022/23 academic year with a sense of hope and gratitude, I'd like to take a moment to reflect on my first year at DCLI and to look forward to the future, while welcoming the incoming 2022 1L class.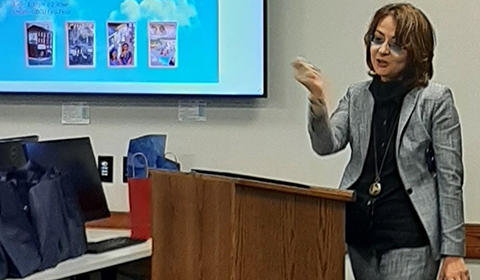 DCLI is a pillar of Intellectual Life
This past year, DCLI had the privilege of engaging the text of Separate: The Story of Plessy v. Ferguson in a 24-week long book club meetings. Professors Wes Oliver and Richard Heppner, joined me and the Duquesne Dukes in our hour-long meetings, for 12 weeks in the Fall and 12 weeks in the Spring.
As we get ready for the new year, be ready to welcome a Duquesne Faculty Speakers' series, where DCLI faculty will talk about their scholarship with their students.
DCLI is a center of Equity and Inclusion
Under the leadership of Dean April Barton, our Duquesne community-wide anti-racism and inclusion work continued and expanded last year. DCLI reimagined a multicultural, diversity and inclusion space in the McGinnis Lab, with help from local youth talent, CAPA students. We celebrated this new tradition on June 7, with the artists and their parents.
In addition to our first listening event - which took place in our Multicultural Room - as soon as the war in Ukraine started, and was attended by Duquesne Dukes, Faculty and Staff, this year, DCLI will further engage in radical empathy, bridging multicultural and multi-ethnic gaps for a more inclusive community.
DCLI is sustaining Excellence in Teaching and Learning
DCLI faculty offer research sessions as needed to students, faculty and staff.
DCLI is at the forefront of scholarly publication, through its Digital Commons, open to faculty and students alike.
DCLI continues to deepen our investment in students. Its 15 study rooms are ready to be used through an online reservation system.
This year DCLI's Wellness Program will continue highlighting Pittsburgh cultural heritage. Stop by the Research Desk between 4 - 6 p.m., Monday-Thursday and talk to our new Law Research Librarian, Katie Lynch, about your research needs and inquire about our programs.
Be ready to take our survey where you will learn more about us and we will learn how to better serve you.
Looking ahead
As DCLI is getting ready to welcome the new 1L class, I want to extend my gratitude to each one of the DCLI Faculty and the Duquesne Thomas R. Kline School of Law of Duquesne University Faculty and especially Dean Barton, as well to all of you, Duquesne Dukes, for the role you are playing in advancing our shared ambitions and moving DCLI forward. As a result of your efforts, we can begin the year ahead with a sense of fulfillment. I look ahead with optimism.
-Dana