What is at the core?
We find it is beneficial to have the elements of theory, history, and musical movement integrated and emphasized in the City Music Center classroom so time with your private teacher can be spent refining technique and improving performance ability.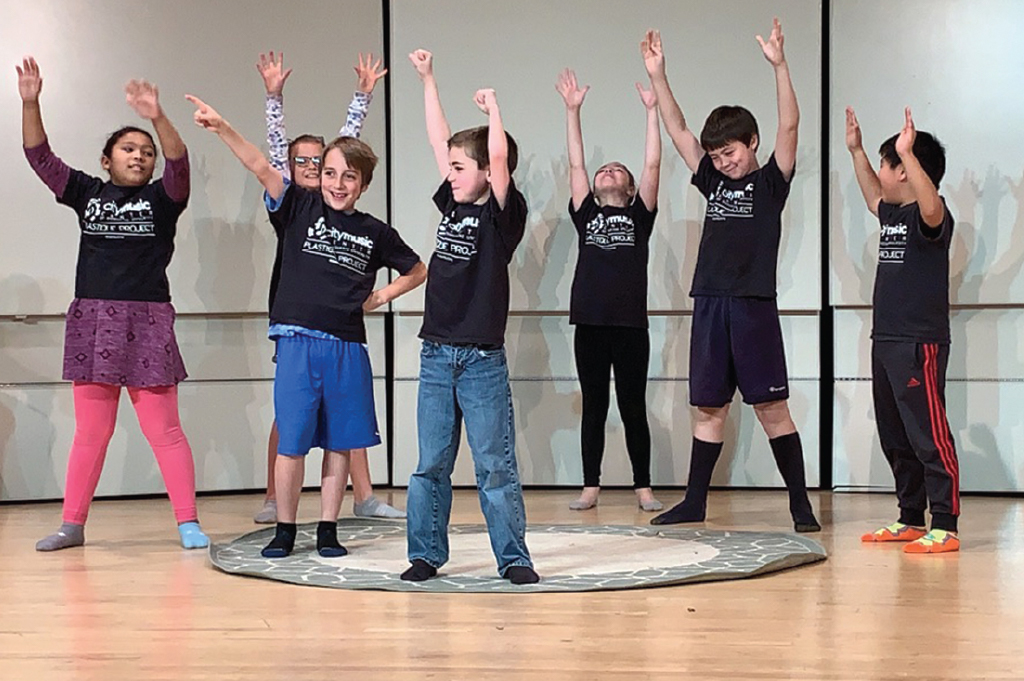 Saturday Classroom Overview
The goals of the City Music Center classroom are to become a better listener, reader, and performer of music. Through listening and movement activities, students learn to perceive and discriminate among the rhythmic and structural elements of music: tempo, dynamics, articulation, pitch, pulse, meter, rhythmic and melodic patterns, phrasing and simple form. Students are supported in developing a kinesthetic and independent understanding of those elements that can be artistically applied during musical performances.

Three levels of musical movement courses are offered at City Music Center. Each level is a two-year cycle:

Movement in Music Level 1
Kindergarten and Grade 1
(Saturdays 10:00-10:30am)
Work at this level is designed to bring the building blocks of music to the student through rhythmic movement, singing, listening and creating. Students explore these building blocks (beat, rhythm, melody, form, articulation, analysis, meter and solfege) through ear training with syllables, rhythmic and melodic sight-reading, and active listening. Students will begin to layer musical concepts such as melody and rhythm, rhythm and form, sol-fa syllables and movement.

Movement in Music Level 2
Grades 2 and 3
(Saturdays 11:00-11:30am)
Designed to challenge the student to a more thorough understanding of the elements of music: binary rhythm patterns, conducting patterns, syncopation, major scale patterns and intervals, ostinato, simple form, solfege and expressive elements of music. *This is a partner-course with Musicianship I in the second year.

Movement in Music Level 3
Grades 4 and 5
(Saturdays 12:00-12:30pm)
Students take a deeper look at the elements of music. Music is analyzed in detail through movement, solfege and improvisation. Advanced musical concepts are presented and the students are challenged to create rhythmic movement that describes both the musical concepts and analysis. *This is a partner-course with Musicianship I in the first year and Musicianship II in the second year.

Musicianship courses are offered at various levels to meet students needs. Each level is a two-year cycle or more:

Beginning Piano
Grades K-2
(Saturdays 9:00-9:45am)
Young students explore the keyboard as a collective group. Students enjoy music-making with a fun and supportive twist that helps engage young learners in preparation for musicianship concepts.

Musicianship I
Grades 3 and 4
(Saturdays 10:00-10:45am)
Students in Musicianship 1 learn the basics of reading and writing rhythms and melodies. They demonstrate their theory skills by echoing, performing, and taking dictation of rhythmic and melodic patterns, creating their own patterns, and applying their theory skills to the music they are studying in lessons.

Musicianship II
Grades 5 and 6
(Saturdays 11:00-11:45pm)
In Musicianship 2, students expand their knowledge of music reading, notation, and sight-reading skills. Students will begin to analyze the structure of scales and chords, as well as the harmonic organization of a composition.

Musicianship III
Grades 7 and 8
(Saturdays 11:00-11:45am)
Students in Musicianship 3 continue to expand their knowledge of scales, chords, and harmonic analysis, while they discover opportunities for practical implementation of their theoretical knowledge and experiment with original composition. Students learn to sing at sight, distinguish between various types of intervals and chords, dictate rhythms and melodies, and expand their capacity to interpret more challenging rhythms and meters.

Advanced Musicianship
Grades 9-12
(Saturdays 12:00-12:45pm)
Reserved for students with advanced working knowledge of music theory and practice, this course allows for advanced musicians to work in small numbers alongside faculty to craft a custom curriculum that is challenging, motivating, and rewarding. Building on skills acquired in previous coursework, students focus on the evolutionary path of harmony through historical and cultural lenses leading up to the jazz era. Students also explore advanced concepts through composition exercises, active listening, and analysis while getting to know some of the world's most prolific contemporary musicians and composers.

General Musicianship
New Students
(Saturdays 12:00-12:45pm)
General Musicianship is an individualized course where new students learn the foundations of music and ear-training, in both large-group and one-on-one instruction. The self-paced course is designed so that students may join their same-age peers in the standard Musicianship track once they attain a certain level of knowledge and skill.

This 6-year cyclical curriculum ensures all students (new & returning) can join the experience at any time!

Music History
Grades 6-12
(Saturdays 10:00-10:45am)
Students in Music History learn of the connection between music and culture throughout history, how music evolves over time, and how historic trends remain relevant in today's musical culture. Students contemplate and connect music from the prehistoric to the present including Western art music from the eras of Antiquity, Medieval, Renaissance, Baroque, Classical, Romantic, Modern, and popular music history of the United States.
Questions?
If you're unsure of what direction to take or if you need additional information, please reach out to our team at City Music Center!