We want our guests to feel confident that their special dietary needs are met with easy access to nutritional information. Our dietitians play a significant role in ensuring our menu items comply with the Academy of Nutrition and Dietetics, the world's largest organization of food and nutrition professionals, and are committed to improving the nation's health.
Whether you've made a lifestyle choice or have specific dietary needs, it shouldn't stop you from enjoying our food. We offer a variety of food options for special diets, including students with food allergies. Our Allergy-Friendly Zone provides accurate labeling of food products, prepared by our culinary team that is knowledgeable about food allergies and sensitivities. Our chefs prepare food in the Allergy-Friendly Zone with dedicated equipment to avoid possible cross-contamination.
We offer a large variety of meals catered to those who have a Gluten Free or Plant-based diet. We also provide as many Halal and Kosher style meals as possible.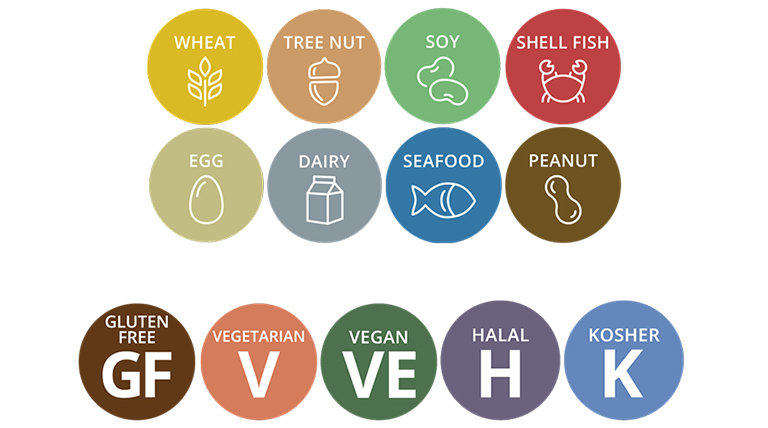 Duquesne Dining works with our guests that have dietary restrictions or food allergies to develop a supportive and reasonable arrangement so that they may participate in the college dining experience as much as possible. We take into account each individual's personal dietary needs and make every effort to provide helpful information and assistance when needed. Our goal is to provide you with the tools that you need to be active in the management of your dietary restriction or food allergies within all dining locations on campus.
Guests with severe food allergies are asked to email%20Student%20Disability%20Services to arrange a meeting.
After the initial meeting, we will schedule a time for you to meet with the Director of Hogan Dining and one of our Executive Sous Chefs to gather any additional information from you regarding your food allergy or dietary restriction and provide in detail the steps on how we will provide a safe meal for you.