At Duquesne University, equity and opportunity begin at home.
Our commitment to diversity, equity and inclusion is seen every day in our community of nearly 8,500 students, representing every state, 80+ countries and a broad range of diverse backgrounds and experiences. At the same time, we are small enough that students, faculty and staff know one another by name and are invested in each other's success.
A Welcome from our Inaugural Chief Diversity Officer
As a part of our mission, Duquesne University serves God by serving its students. We are unique in that we are the only Spiritan order run university in the world. Our seven marks of a Spiritan Education is the basis of our dedication to diversity, equity and inclusion:
Openness to the Spirit
Global Vision
Community of Respectful Relationships
Concern for the Poor
Commitment to Service
High Academic Standards
Academic Freedom
We realize that a diverse student population is important in advancing our mission – and Duquesne students are individuals with their own stories, interests, backgrounds and dreams. This diversity of experiences enriches our campus culture and provide countless opportunities for students to find their paths and connect with a variety of people who share their passions
At Duquesne, we recognize the value in teaching our students to embrace diversity in the work that they do. This appreciation of different backgrounds, beliefs and talents produces students who are sought after by organizations for their ability to lead and collaborate in a diverse and global environment.
In addition, our goal is to grow diversity within our faculty, administration and staff and will continue to strive to ensure diversity, equity, inclusion, and belonging within our workforce.
Spiritus est qui vivificate
It is the Spirit that Gives Life.
Crystal McCormick Ware, M.S.Ed, G-CDF
Inaugural Chief Diversity Officer and Senior Advisor to the President for Diversity, Equity and Inclusion
Diversity at Duquesne
We are a community in which human diversity is valued. Our students, faculty, staff and alumni represent: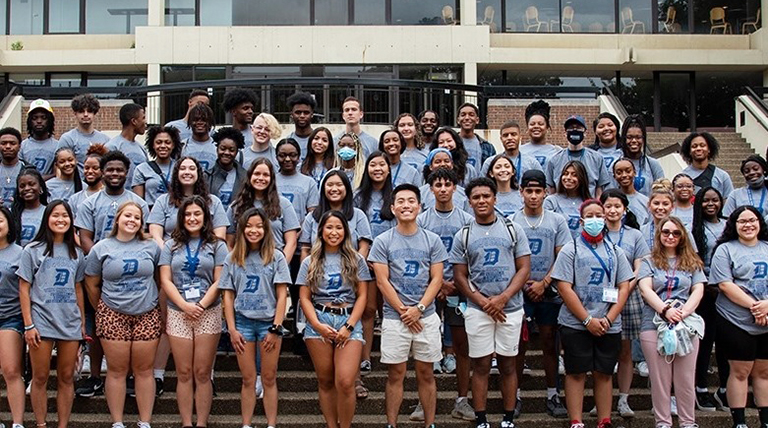 All 50 states and more than 70 countries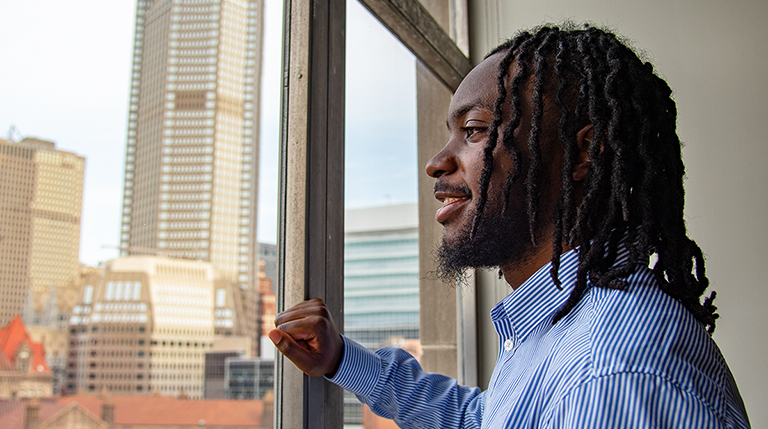 Urban, suburban and rural areas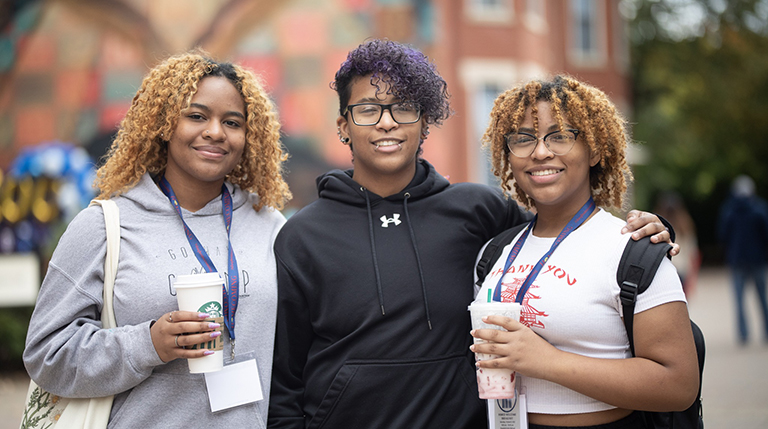 Wide range of faiths, races, ethnic and socioeconomic backgrounds
Duquesne President Ken Gormley's Statement on SCOTUS Affirmative Action Ruling
Duquesne University is disappointed in the U.S. Supreme Court's decision in SFFA v. Harvard/UNC, which overturned the nearly half-century-old ruling in Regents v. Bakke (1978) that recognized the value of thoughtful affirmative action type programs in enriching the educational environment on college and university campuses across the nation. Nonetheless, the University respects the decisions of the Supreme Court as an essential part of our democratic system. Moreover, the Court's ruling that the explicit consideration of race in the admissions process is unconstitutional will not affect our long-standing commitment to diversity, equity, and inclusion as part of our University's foundational principles and mission.
Featured content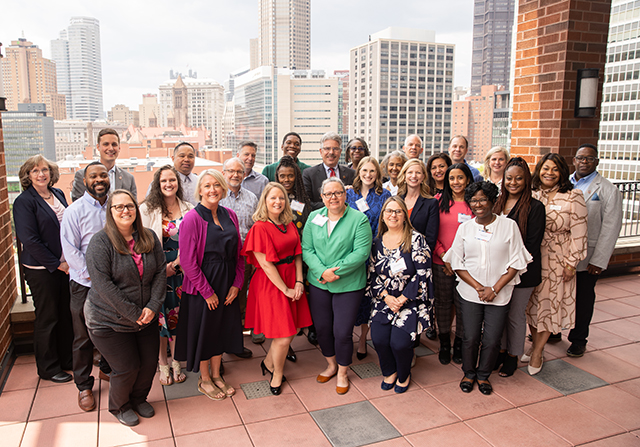 The University Diversity Statement
In accordance with the mission statement of Duquesne University, we serve God by serving students through the maintenance of an ecumenical atmosphere embracing diversity and inclusion. Guided by the Congregation of the Holy Spirit and its members in over 60 countries, and consistent with our Catholic tradition, our commitment to inclusive excellence encompasses every aspect of personhood – including age, citizenship, disability, ethnicity, gender, race, religion, veteran status and sexual orientation. This commitment is the responsibility of every member of the Duquesne University community. On our campus and in all our efforts, broad ecumenism is both a response to the contemporary world and a timeless striving for the liberation of humanity from everything that offends dignity and freedom. In this way we advance the Reign of God in response to the Holy Spirit who gives life.
Contact
Crystal McCormick Ware is Duquesne University's Inaugural Chief Diversity Officer and Senior Advisor to the President for Diversity, Equity and Inclusion.
Diversity, Equity and Inclusion Leaders Across Campus
Meet the diversity, equity and inclusion leaders across the Duquesne University campus.
MLK Unity Walk 2023 photos
Duquesne University sponsored its first MLK Jr. Unity Walk to promote unity on campus during the first MLK Jr. Unity Week. The Office of the Chief Diversity Officer, the Center for Excellence in Diversity and Student Inclusion and Campus Ministry were the primary sponsors of this new and historic event. The Unity Walk was an opportunity for our beloved University to promote our commitment to unity and peace on our campus.
There are no upcoming events to display for this calendar.
WTAE-TV clip: Hispanic Heritage Month celebrated at Duquesne University
Interfaith Calendar 2023
Support Resources Related to Middle East Crisis
As President Gormley stated in his letter to the campus in October, our role as a Catholic and Spiritan university, with profound concern for moral and spiritual values and commitment to maintaining an ecumenical atmosphere, compels us to denounce extremist ideology in all its forms, and acts of violence carried out in its service. The tragic loss of innocent life in Israel and Gaza strengthens our resolve to teach values of peace and community.

As the President also stated in the same letter, we're uncertain about how the situation will resolve, but our first duty is to care for our students and our community. The Center for Student Wellbeing and Spiritan Campus Ministry remain important resources for those who may need it and are ready to help. Since October 7, 2023, staff in Duquesne's various offices and operations have continued to connect with students and others to provide support as the horrendous situation in Israel and Gaza continues. Our priority has been, and remains, the safety and wellbeing of all members of our community, knowing that the crisis affects many people in a range of ways.

Additionally, we encourage students to seek out loved ones, friends, faith leaders or other professionals, as further sources of support. Faith communities in Pittsburgh— Jewish, Muslim, Christian and others—are available and welcoming for those who wish to connect with them.

As we confront the enormity of the violence and horror occurring there, our approach has been consistent with the University's mission, to respect each human life and to provide safe and secure ways for members of our broad campus community to engage respectfully with one another.

The loss of innocent Israeli and Palestinian lives is dreadful and appalling, and has sent shock waves across global communities as well as our own. Since October 7, the Division of Student Life has personally contacted students with connections to the region as well as Jewish and Muslim student organizations. The Center for Global Engagement has been in touch with other international students from the general region. The Center for Student Wellbeing has taken steps to serve students currently suffering, and they have been mindful to check with individuals they serve to see if the atrocities are having any compounding effect on their mental health.

In the coming days, several activities have been planned at the request of a wide range of students looking to understand, learn, and potentially support those impacted. Those events include:
The Political Science Club and Pi Sigma Alpha, with Professors Irwin, Hass, and Bobb of the Department of Political Science, hosted "U.S. Foreign Policy and the Gaza Crisis: A Student-Led Faculty Forum" on Wednesday, October 25, at 6 p.m., in Rockwell Lecture Hall 3;
On Thursday, October 26, Campus Ministry held a prayer service at 6 p.m. in the Chapel for the University community;
The first of three webinars from Classrooms Without Borders occurred on Friday, October 27, hosted by Duquesne's Hillel chapter.
An interfaith Thanksgiving dinner with the Muslim Student Association, Hillel and others occured on Monday, November 13.
Classrooms Without Borders hosted two more webinars.

"Wither the Israel-Hamas War?" occured on Friday, November 17, 2023 at 9 a.m. It unpacked where things stand (as of that day) for Israeli society, the Hamas-held hostages, Israeli military achievements, the humanitarian situation in the Gaza Strip and the rise of antisemitic attacks globally. Scenarios for the aforementioned issues in the immediate and long term future were also addressed.
"A Toolkit for Understanding the Israel-Hamas War" was held on Tuesday, November 21, 2023 at noon to promote a deeper understanding of the issues.
For details, contact Duquesne's Hillel Club.
Our commitment to civil discourse and ethical engagement is core to our identity; we will not tolerate actions that threaten the safety and security of anyone who chooses to work, teach or study here. Duquesne will not countenance harassment, threats, intimidation or other acts that risk harm to our students or other members of our campus community, especially related to their religion, race, ethnicity and other characteristics of their identity.

We are keenly aware of the atrocities that are impacting so many innocent people in the Middle East, and we will pray for a swift and lasting peace in that region, and for the safety and healing of those individuals and families who have been impacted by these recent, horrific events.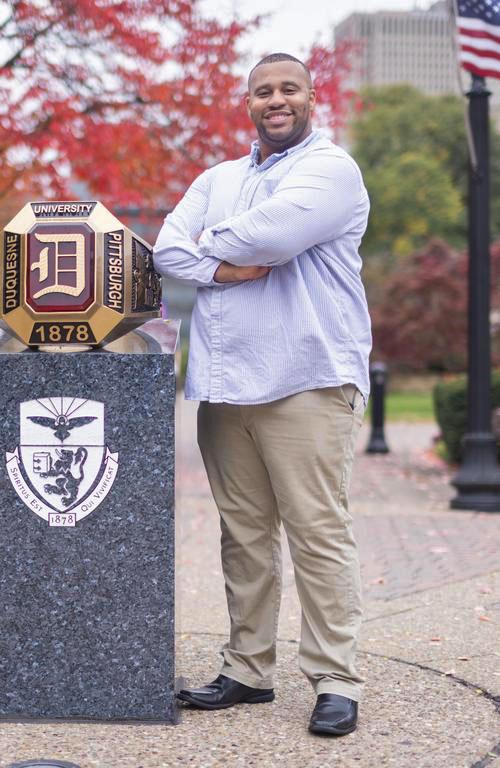 Read Jeffrey's Story
President's Advisory Council for Diversity, Equity and Inclusion
The President's Advisory Council at Duquesne University serves as the official Advisory Board for Crystal McCormick Ware, Inaugural Chief Diversity Officer and Senior Advisor to the President for Diversity, Equity and Inclusion.

President Ken Gormley announced the formation of the Duquesne University President's Advisory Council for Diversity and Inclusion in February 2018. This Council, comprised of faculty, staff and students, helps to sustain and advance our efforts to remain inclusive and welcoming as a University community.
As part of its charge, the Council provides periodic recommendations to the President, Inaugural Chief Diversity Officer and Senior Leadership team to identify and enhance opportunities related to diversity, equity and inclusion efforts.
Chair
Sherene Brantley, Associate Athletic Director, Athletics Dept.
Members
Anthony Cappa, Director, Enrollment Management Group
Giovan Cuchapin, Campus Minister, Spiritan Campus Ministry
Ryan Dawson, Senior Director, Human Resources
Dr. Kate DeLuca, Associate Dean for Student Affairs, School of Nursing
Dr. Janie Harden Fritz, Professor, McAnulty College and Graduate School of Liberal Arts
Dr. Valerie Harper, Director of Inclusive Excellence, Thomas R. Kline School of Law of Duquesne University
Chase Loper, Director, Shared Services
Matt North, Director, Institutional Research & Planning (Ad-Hoc Member)
Dr. Phillip Palmer, Assistant Dean, Bayer School of Natural & Environmental Sciences
Dr. Alia Pustorino-Clevenger, Director for Student Life Assessment & Co-Curricular Community Engagement
Quincy Stephenson, Director, Center for Excellence in Diversity & Student Inclusion
Tamara Trembulak, Assistant Director of Freshman Development and Disability Services (DUSAC Representative)
Dr. Adam Wasilko, Assistant Vice President for Student Involvement
Olivia Erickson, Senior
Marcelius Lewis, Junior
Employee DEI Resources
Explore the various diversity, equity and inclusion resources for faculty and staff at Duquesne University.

Read the DEI Certificate Program Fall 2023 magazine story

Duquesne University launched a program on Sept. 8, 2022 for faculty and staff to earn certification in diversity, equity and inclusion. This opportunity is made possible through a partnership between the Inaugural Chief Diversity Officer and the Office of Human Resources, Learning and Development.

The Diversity, Equity and Inclusion certificate program is designed to reinforce the University's mission of serving God by serving students so that they, in turn, may serve others.

"Part of our mission is to maintain an ecumenical atmosphere open to diversity—to do everything we can so that those who wish to study or work here are included and have every opportunity for growth," President Ken Gormley said. "I am very pleased that this exciting new initiative will provide ways for everyone to gain skills so critical to our collective success."

Faculty and staff participants earn their certificate through a series of 10 fundamental level workshops offered over the course of the academic year. Each in-person course is about three hours long. The workshops address Duquesne policies as well as individual behaviors that help create an environment of opportunities for all at the University.

Of the 10 workshops, seven core workshops are required. Participants then choose at least three elective workshops. Various content experts deliver the different courses. Participants gain an increased awareness of the importance of diversity, equity and inclusion, and develop tools and strategies to enhance success and belonging in academic and workplace settings.

Individuals who choose to earn the diversity, equity and inclusion certification should discuss it with their supervisor to align goals, outline general and specific relevance to their work at the University, and ensure adequate planning for the time commitment required.

In addition, a summer-intensive program is offered that provides the core courses for those with scheduling conflicts.

To meet the requirements for the DEI Certificate program, participants must complete a capstone project session facilitated by Crystal McCormick Ware, inaugural chief diversity officer and senior advisor to the president for diversity, equity and inclusion, and Dana Whatley Smith, assistant director of learning and development for the Office of Human Resources.

Email Ms.%20McCormick%20Ware or Ms.%20Whatley%20Smith for more information.


Feedback on the DEI Certificate Program:
"Congratulations and thank you to Ms. Crystal McCormick Ware, Duquesne University's Chief Diversity Officer and Ms. Dana Whatley Smith, Assistant Director, Learning & Development, for successful implementation of an excellent Diversity, Equity and Inclusion Certificate Program. The program is well-conceived, capably managed, and expertly delivered by knowledgeable staff.

With an appropriate breadth of perspective and opportunity for productive discussion of important current topics with peers from across campus, the program tackled many of the critical DEI issues that are encountered in today's academic environment. From religious diversity to supporting our veterans and active-duty military personnel, the program provides valuable perspective for all academic leaders, faculty and staff."


– James Drennen, III, Ph.D., Dean, Duquesne University School of Pharmacy and Graduate School of Pharmaceutical Sciences



"It was an honor and privilege to be included as an instructor for the DEI Certificate Program. This program's commitment to inclusivity aligns with the Office of Title IX and Sexual Misconduct Prevention and Response's dedicated efforts to provide an educational, employment, and business environment free of sex discrimination.

Seeing the initial success of this program makes me excited for the future, as I know that with each future cohort, we will move further towards our goal of gender equity and a campus community free from sexual harassment and discrimination."

– Alicia M. Simpson, Title IX Coordinator and Director of Sexual Misconduct Prevention & Response

DEI Resources

The Duquesne University Inclusion Network serves Duquesne University's DEI practices and is comprised of staff and faculty who are identified as persons who are committed to advance Duquesne University's goals of becoming a more inclusive and welcoming campus community both in the classroom and outside of the classroom.

The Duquesne University Inclusion Network is open to all Duquesne University employees engaged in DEI practice and include designated DEI representatives from each School, unit and department, DEI professionals, and practitioners.

Members serve as liaisons to their respective units and are expected to share information with their colleagues after each meeting and to partner with other units as opportunities are presented.

Activities and Engagement:
Strive to improve communication amongst University schools, units, and departments
Hold Inclusion Network meetings as a way to chat regularly, drop files and promote events in the Teams Page, as well as share DEI efforts with the Network
The Inclusion Network will keep members updated on their specific unit's DEI program and initiatives by highlighting a specific school, unit, or department each month.
Inclusion Network members will have the opportunity to partner or collaborate with other schools, units, and/or departments by sharing DEI efforts
Create a safe space amongst Duquesne University DEI colleagues by being transparent as to where departments or units may hit obstacles and can ask for assistance or guidance openly
Share best practices and successful approaches in DEI efforts
Our Diversity Advocate Program includes a group of faculty members throughout the University who are appointed to full- time faculty searches at Duquesne University. In collaboration with the Chief Diversity Officer and the Office of the Provost, Human Resources provides the members of this program with the proper training, skills and abilities to help with Duquesne's faculty searches.

The goal of the Diversity Advocate Program is to ensure the search process is held to the same standard and that Duquesne is consistent with the approach to such faculty searches.


Diversity Advocates are trained faculty volunteers who serve on faculty search committees as non-voting members. They work with search committees to promote diverse applicant pools and implement candidate evaluation processes that treat all applicants with fairness and consistency.

View 2023-24 Diversity Advocates

We welcome you to learn more about our hiring practice of faculty, staff, and students and our dedication to attracting, retaining, and engaging a talented and diverse workforce. We strive to be a trusted partner in supporting the diverse talents you may bring to Duquesne University. You will discover at Duquesne University, you have the potential to be part of a diverse community committed to promoting bigger goals through educational excellence and moral and spiritual values.

You will discover that our Social Impact commitment to diversity, equity, and inclusion is seen in action every day on campus and led by our Inaugural Chief Diversity Officer.

Our DE&I Practices

The mission of the Duquesne University ERGs are to promote diversity, equity, inclusion and belonging to encourage the many interests and cultures within our workforce on campus. Our ERGs also serve as safe spaces for employees to collaborate and partner with other ERGs for programming, dialogue and awareness.

Learn more and sign up for an ERG

Duquesne University, led by the Holy Spirit and guided by its Catholic values, is committed to fostering and maintaining authentic relationships with every person.

In support of this commitment, the University has implemented a process that enables students, faculty, staff, and alumni who identify by a name other than their given (legal) first name to use a chosen first name for University systems where a legal name is not required ("Chosen First Name").

Learn More
Diversity Resources for the DU Community
Explore the many diversity, equity and inclusion resources available to our entire Duquesne University community.