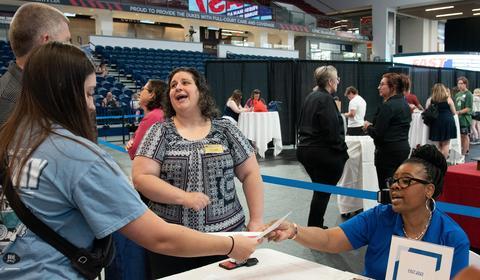 We're thrilled that you have chosen Duquesne University to pursue your bigger goals!
As a first-year college student, it is our responsibility and joy to help you and your family transition to college life.
Our team:
Coordinates orientation and other activities to ease your way during your first year.
Advises Phi Eta Sigma (Honor Society) a national honor society for first-year students who display superior academic ability (GPA 3.5 or higher) and performance.
Monitors first-year student grades and helps students find tutors when needed.
Freshman Orientation
Orientation is a great opportunity for incoming first-year and other new students to get to know Duquesne and their classmates.
Our week-long orientation program is a great opportunity for new students to get to know our campus and their classmates. Orientation offers parent orientation, as well as transfer student orientation. Every deposited student is automatically registered for orientation.
What Makes Our Orientation Special?
Our program is developed for students by students. Our student staff is uniquely positioned to welcome you to the Duquesne family.

Since we've been through the process ourselves, we know that starting college is a thrilling yet apprehensive time.

With this understanding, we have developed a program that fits the needs of our new students and will enable them to make the most of this next exciting chapter of their lives!
Orientation 2023 Student Guide
We are so excited for the arrival of all students and hope that we can make move-in as stress-free as possible! When arriving, all vehicles will be directed into campus through McAnulty Drive where the specific route to LLCs will be identified by our Duquesne Public Safety Officers and Orientation Staff.
Please keep the following in mind during move-in day:
Please adhere to your move-in time slot. To request any changes to your move-in time, please email%20Residence%20Life.
Have all items and boxes labeled with your full name, building, and room number.
You must pick up your room key from the residence life tent/tables outside of your residence hall before entering the building.
After your move-in is complete, visit the Orientation tent for your goodies for the week!
Lunch will be provided to all students and families on move-in day in Hogan Dining Center, free of charge.

Make sure to have the Orientation Schedule downloaded on your device in preparation for move-in! This schedule includes more detailed information about our move-in process, a schedule of events, campus resources, a to-do list before classes start, and more.
For Parents Only: Learn about more about Parent Orientation.
The Freshman Mentors Program is a resource where new students are assigned a faculty or staff mentor. First-year students are assigned many supportive University community members including an academic advisor, resident assistant, orientation team leader, faculty advisor and a resident director to name a few. The Freshman Mentor Program provides a unique opportunity for new students to have someone to talk to, to hang out with or to just vent.
Mentors in this program are qualified University employees who are genuinely interested in the welfare of our students and have that added ingredient that makes them particularly accessible. Mentors coordinate study breaks, informal outings and other social events made available to their mentor group. Most importantly, however, they are available to our students in many ways to help them through that first year of college.
Any first-year student who may be interested in being assigned a mentor, please feel free to reach out to us at Freshman%20Development and we will assign a mentor to you.
The Freshman Class Council is a group of freshmen who meet with the Director of Freshman Development biweekly throughout their freshman year.
Students provide feedback to the Director concerning current freshman needs.
Members of the executive board plan service projects for the Freshmen Class. Examples of these projects are:
Volunteer at Night of Lights
Family Weekend
Heritage Week
Founders Week
Member of the executive board plan social events for the Freshmen Class. Examples of these events are:
Class Ski Trips
Zoo Trips
End of the Year cookout
Pirate Games
Kennywood
Movie Nights
Painting Nights
Join your fellow freshmen on these weekend trips to discover cultural, entertainment and recreational attractions in the Pittsburgh region. The fun includes:
Pittsburgh Pirates games
Kennywood Park
Pittsburgh Zoo
Tours of Pittsburgh
Fright Night at Kennywood
Discounted Movie Tickets
If anyone has any suggestions for next year programs, please contact Freshman%20Development.
Phi Eta Sigma is a national honor society whose goal is to encourage and reward academic excellence among freshmen in institutions of higher learning.
Phi Eta Sigma was founded at the University of Illinois on March 22, 1923 at the University of Illinois. Today the national honor society has than 375 chapters throughout the United States and more than 1,100,000 members.
Phi Eta Sigma obtained membership into the Association of College Honor Societies in 1973. Only two societies have had longer continuous memberships. As a national college and scholastic honor society for freshmen, Phi Eta Sigma encourages and rewards high scholastic achievement in institutions of higher learning.
The Duquesne University chapter was established on November 15, 1983. The students who are honored at this ceremony earned a cumulative grade point average of at least 3.5 at the end of their first semester at Duquesne University.
Michael P. Weber Learning Skills Center Students are able request for tutoring in three different ways:
The tutoring request process is now easier than ever! Students can request tutoring via Starfish
The Learning Skills Center is offering both, in-person and online, tutoring for the Spring 2023 Semester. In-person tutoring will be held in our reserved classrooms, and online tutoring will be conducted via Zoom. We will also present the Exam Review Workshops via Zoom.

Students are able request for tutoring in three different ways:
Students can come into the Center and request for tutoring in person. (Bottom Floor of Old Main/Administration Building)
Students can request for tutoring through Starfish. Once they complete the Starfish request, they will be directed to the Learning Skills Center - Tutor Request Form link via email, which they would need to complete and submit.
Students can bypass the Starfish request and complete the Learning Skills Center - Tutor Request Form if you share the link with them directly.
Learning Skills Center - Tutoring Request Form

Upon submission of the Learning Skills Center - Tutor Request Form, a tutor will contact the student within 3-5 business days with details on how to schedule an appointment. At that time students can specify whether they want in-person or online.
Supplemental Science Instruction
Additional tutoring or test preparation can be found in Mellon Hall for the following classes: Biology 111, Anatomy & Physiology, Biology: Intro To Life Processes, General Chemistry, Advanced General Chemistry, Organic Chemistry, and Physics.
Please consult the schedule for times and locations. Appointments or referrals are not need for these sessions.
Writing Center
The University Writing Center is here to help with your final projects and papers!
All sessions will be conducted online via Zoom. We have expanded our online hours! There are no in-person appointments.
ESL Program Tutoring
If you are taking ESL courses (Basic A through UCOR 101E and UCOR 102E) we have tutors who can help you. The ESL Program has trained tutors who can help you understand and improve your English skills. Many excellent students have worked with ESL tutors. These students developed their language skills, and they felt more confident in using English. ESL Program tutoring is free.
You can make a tutoring appointment once a week. If you are a student currently taking ESL Program courses, please make an appointment with an ESL Program tutor.
Other sources of tutoring:
A.J. Palumbo School of Business Administration
704 Rockwell Hall
(412) 396-6276

Athletic Academic Coordinators
1st floor, Mendel Hall
(412) 396-6565
Mathematics and Computer Science
440 College Hall
(412) 396-6467

Modern Languages Department
202 Fisher Hall
(412) 396-6415
Music School Advisement Office
303 School of Music
(412) 396-5744
NAP Coaching
(For students in nursing courses)
544 Fisher Hall
(412) 396-6347
Spiritan Brother Gerald Keating served the Duquesne community from 1924 until 1980. In that time, he developed the Our Lady of Victories Shrine and garden and served a campus chef for many decades. During the Great Depression, Brother Keating quietly supported students who felt the crippling impact of the economic collapse, thus enabling them to successfully complete their academic studies.
The Keating Initiative seeks to assist food insecure students, faculty, and staff. The initiative includes comprehensive "wrap-around" services that include health and wellness, meal vouchers, and a campus food pantry.
Individuals wishing to utilize the Keating Initiative are asked to complete an intake document which will enable them full access to the pantry and other services.

Donations are accepted through the United Way (#16569303: Brother Keating Initiative Food Pantry)
For more information, please reach out to us:
Tamara%20Trembulak
Assistant Director for Center for Student Involvement
and Union Operations
Jeanie%20Kocinski
Administrative Assistant for Freshman Development
and Disability Services
Overview
The following program description offers a programmatic structure to afford developmental and creative programming for student participants. Moreover, this program was crafted to highlight the University's current community-engagement efforts in target neighborhoods, introduce students to key community leaders and agencies, encourage the personal development of participants, and foster spiritual growth of participants looking to live out their faith by serving others.
The Objective & Goals
To provide a six-day program for Catholic high school students to engage in challenging dialogue, motivating workshops and trainings, as well as community-engaged and social activities designed to enhance academic learning, personal development, faith development, leadership skills, and civic identity development.
Duquesne University Leadership Academy (DULA) seeks each day to foster the following:
Engaging with our Local Community
Growing in our Faith
Building Servant Leaders
Building Community with One Another
By participating in this program, students will:
Understand contemporary and historical issues that affect Duquesne's key communities;
Learn about how Duquesne University faculty, staff, and students reciprocally partner with communities and service agencies to address challenges and opportunities with the goal of building a more just and verdant world;
Begin to develop the skill set necessary to constructively engage with diverse stakeholders in order to collaboratively achieve realistic resolutions to community problems;
Assess their leadership style and craft a plan to recognize themselves as future change agents within their communities and the world;
Nurture the fullest expression of the Gospel call to justice in a way that goes beyond charity or single charitable actions using the see, judge, act model to promote a holistic and systematic approach to peace and justice in our world
Freshman Advisement Summer Transition (FAST)
Our FAST program is unique to Duquesne, as all incoming undergraduate students have the ability to start transitioning to Duquesne life BEFORE you even attend Orientation.

As FAST is an important (optional) program, each school has two days that incoming students are able to attend in-person; however, you choose only one day to attend.

Please feel free to contact us with any remaining questions or concerns you may have.

As a reminder, Computer Science and Math majors have been moved from Liberal Arts to the School of Science and Engineering.

The FAST Program Will Help You:
Meet your academic advisor
Learn about health services, financial aid, tuition deferment, safety, security and student activities
Get your student ID
Set up your student bank account
Order or purchase books and computer
Connect with future classmates
Still need to complete your Federal Direct Loan application? Want to waive the student health insurance charge? Parents need a copy of your student's eBill?
For Parents: Obtain access to student's eBill
Confirm student's health insurance coverage (to avoid being billed)
Complete your Federal Student Loan requirements
Complete your Work-Study employment application
For Parents: Apply for the Parent Loan of Undergraduate Students (PLUS)
First-Year Development
(412) 396-6657