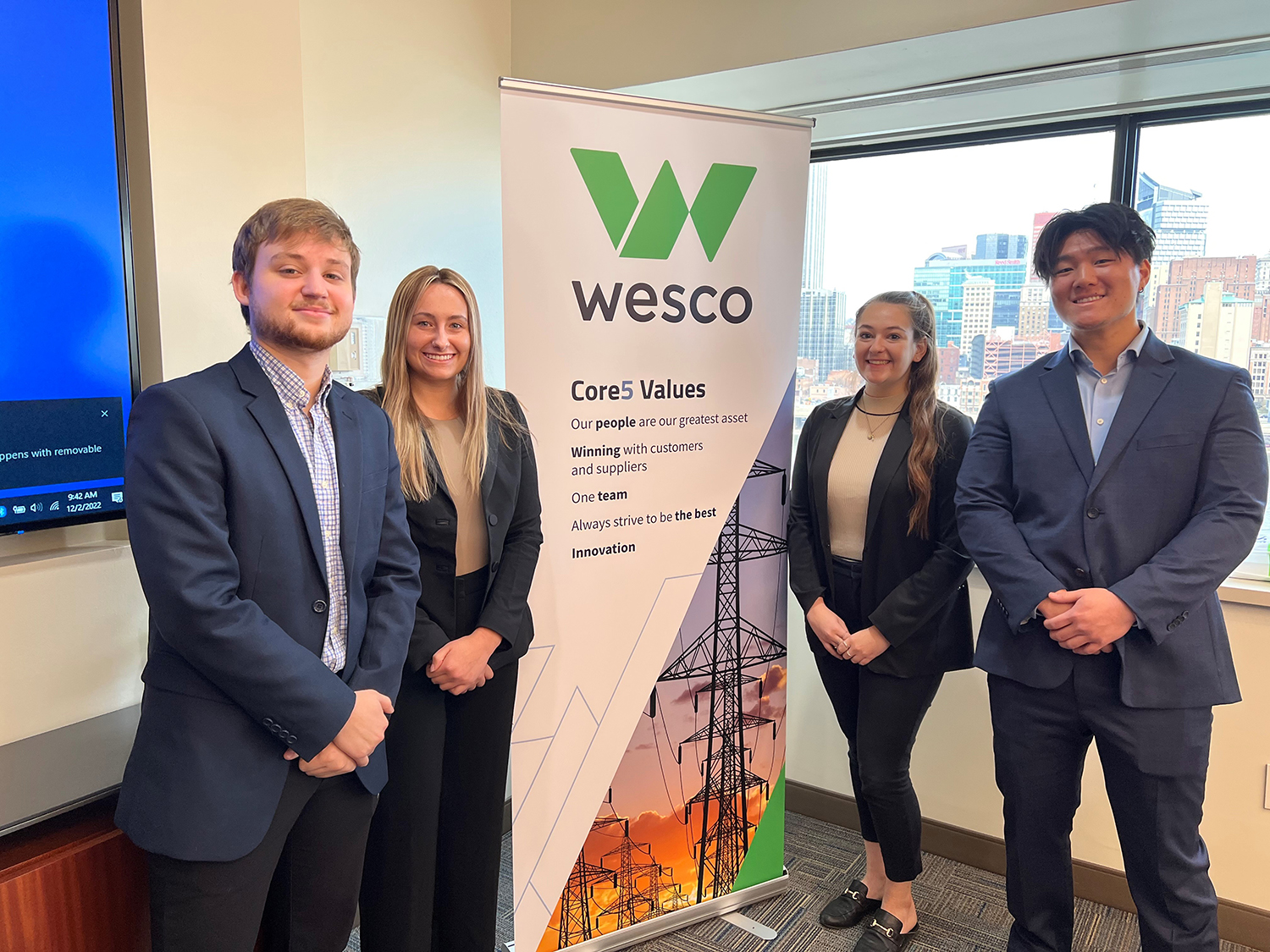 First Year Innovation Challenge Sponsored by EY
Our First Year Innovation Experience, an intensive cornerstone course offered each fall, prepares first-year students for success by introducing entrepreneurial thinking and other transformative skills. A signature part of the course is its innovation challenge, a semester-long competition presented by an external partner. For the past three years, the School has partnered with Ernst and Young (EY) to find innovative solutions to current business challenges.

In 2022, EY tasked students with using their Gen Z perspective and their experience with the COVID-19 pandemic to propose ways that EY can improve the working world. Students addressed the challenge within five categories: social impact or mission of the company; professional development; well-being; workplace recognition; and workplace environment.

A total of 50 teams tackled the challenge, with each student first developing an idea and presenting it in an elevator pitch format. Working with an assigned mentor, each team selected the best idea from their group and then spent the remainder of the semester brainstorming, researching, pitching, and ultimately creating a detailed plan to answer the challenge. The top five teams moved onto the final round and presented their plan to a panel of EY judges. Up for grabs was the opportunity to interface with EY leaders, compete for $15,000 in scholarship money, earn a standout resume line, and make real-word impact.
Strategic Management Competition
All undergraduate business students take Strategic Management in their senior year, and the class includes a signature experience that is designed to enable students, working together as a team, to apply business frameworks, tools, and theories to solve real-world, managerial integrative problems.

The key to the experience is the client organization that provides the scope and details of the project. Since 2019, Wesco has partnered with the School to provide strategic challenges to our students. This partnership was further strengthened in 2020, when Wesco became a gold partner of the Center for Leadership in Professional Selling. As the partner to the Strategic Management class, Wesco formulates the challenge, provides the required information, and introduces students to Duquesne alumni contacts that can assist them with the project.

In the fall, 84 Strategic Management students on 18 teams competed for the chance to present their findings to Wesco executives. On December 2, the three finalist teams presented at Wesco's Pittsburgh headquarters, with the team consisting of Andrew Chipka, Elizabeth Sklodowski, Nicole Park, and Luke Hirata taking the top prize. Each member of the winning team took home $500, while members of the second and third place teams took home $250 and $100 each.