A Horizon-Expanding Education
Learn about our programs!
Our programs are nationally accredited and guided by standards from the Commonwealth of Pennsylvania and national professional organizations. You will learn from expert faculty and have the opportunity to experience a K-12 classroom setting as early as the second semester of your first year. During your studies, you will also have the opportunity to study abroad if you wish.
In our Leading Teacher Program, you will become a learning theorist, a curriculum designer, an expert in school content, a master practitioner and an instructional leader. These are five domains critical to becoming a leader in the classroom.
While enrolled in our program, you will complete a set of core experiences in teaching methodology and participate in guided fieldwork, as well as the university core classes. Our five domains are infused with the three themes of Leadership, Diversity and Technology. Our Leading Teacher Program curriculum bases the learning experiences of becoming a teacher in social justice and professional ethics at the heart of becoming a teacher at Duquesne.
50% TUITION SCHOLARSHIP
Full-time, first-year and transfer undergraduate School of Education students who start their studies in 2023 are eligible for a 50% tuition scholarship.
Visit our School of Education
Learn more about our Leading Teacher Program by attending our School of Education
Representative Meeting on select weekdays. You'll have the chance to learn about our
teaching degree programs and explore our Curriculum Center. You can also observe our
School of Education's collaborative learning environment first-hand by visiting our
"Fundamentals of Classroom Assessment" course taught by Dr. Amy Olson on Tuesdays and
Thursdays.
A Great Education, a Great Value
Duquesne University is rated the #6 best value in PA and #65 nationally based on academic quality and net cost (U.S. News and World Report). Financial assistance in the form of aid, scholarships and tuition awards are available.
We recognize the important roles that teachers play in our society. As a student, you will be eligible for additional funds if you have SAT scores (Math and Evidence-Based Reading and Writing) of 1250 or greater. Our Leading Teacher Program is committed to ensuring that the best-prepared teachers are available for the classrooms of the future.
5-Year Early Start Graduate Education Programs
Our graduate programs offer early start options for School of Education undergraduate students, as well as all undergraduate students across the University. During your junior or senior year, you have the opportunity to take up to five courses in a master's-level program at the undergraduate tuition rate.

School of Education undergrad students can start graduate studies in:
Undergrad students across the University can start graduate studies in:
The School of Education offers early start options for students who have demonstrated a strong academic background (GPA > 3.0) to begin graduate work during their undergraduate time at Duquesne University.

Other undergraduate students across the University who are in good academic standing (GPA >3.0) and are interested in pursuing or exploring an education degree and/or a teaching certification can begin to take courses as juniors or seniors in our graduate teacher education programs.
We welcome you to connect with us to learn more and we will walk you through the application process. To get started, call (412) 396-6093.
Test-Optional Admission
Opt-out of the ACT or SAT. Do you feel that your scores may not reflect your academic potential and successes? Consider Duquesne University's test-optional admission. This might be the right option for you, especially in this current climate.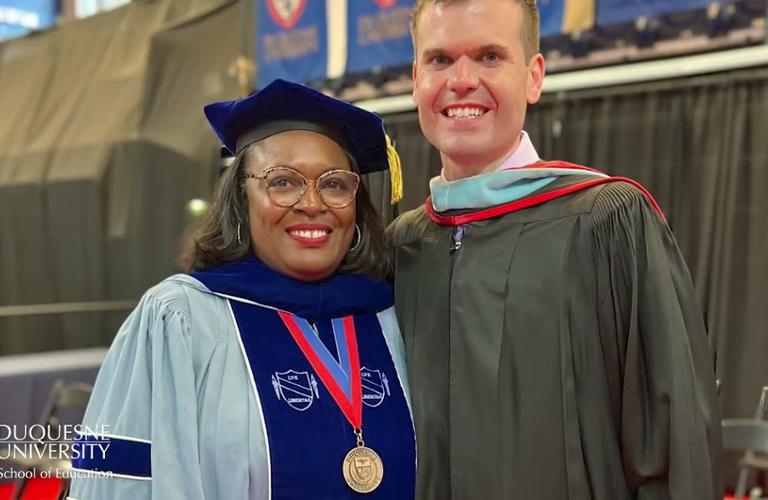 Watch Joe's video
Contact Us
Undergraduate Education