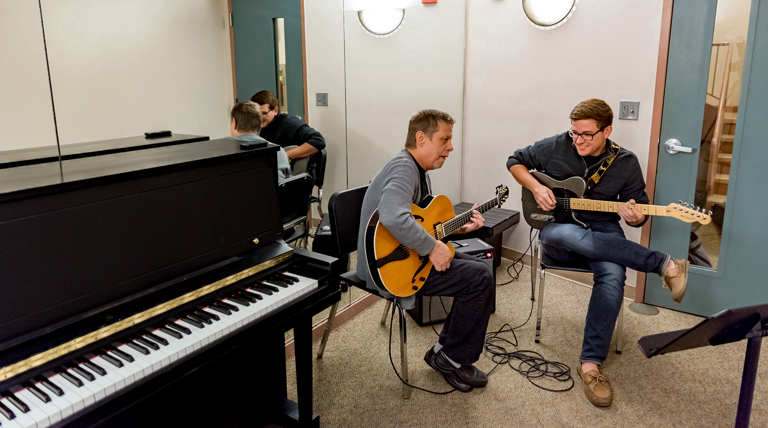 As a student of the Mary Pappert School of Music, you will have access to over 60 practice rooms throughout the building, each equipped with amenities including Steinway pianos, full-length mirrors, and music stands. Large ensemble rooms and classrooms are also available by request.
Percussion students have three dedicated practice rooms (one of which is equipped with a drumset) in addition to the percussion studios. Similarly, organ students can utilize any MPSOM room equipped with an organ for practice.
Piano Major Practice Rooms
If your applied instrument is piano, you will be granted access to a suite of practice rooms equipped with Steinway baby grand pianos. In addition, one of the piano major practice rooms includes two pianos. The piano practice rooms often double as rehearsal spaces for accompanied instrumental or vocal works. Accompanists and students in the collaborative piano program often use these spaces to prepare for student recitals.
Matty and Eddie Shiner Practice Rooms
On the lowest level of the Mary Pappert School of Music, there is a suite of acoustically-enhanced practice rooms that are larger than standard practice rooms, allowing you to conduct small group rehearsals. These rooms are equipped with Steinway upright pianos and were renovated through the generous gifts of donors who wished to preserve the memory of Matty and Eddie Shiner, renowned trumpet and trombone artists who taught thousands of Duquesne brass students over their years of service.