Duquesne Kline Law Commencement
Parking
Graduation guests will be able to park in the Forbes Garage or Locust Garage- the gates will be open as parking is complimentary on graduation day. To access the Locust Garage, guests can do one of the following:
Take the Forbes Garage to the 7th Floor and cross over into the Locust Garage
Take Forbes Avenue to Magee Street to Locust Street
Take Forbes Avenue to Stevenson Street to Seitz or Bluff Street
Take the Bluff Street exit from the Boulevard of the Allies westbound
Parking staff will also be on hand to direct your guests.
Graduation Checklist
Fulfill all academic requirements set forth in the Thomas R. Kline School of Law of Duquesne University Policies and Procedures
Submit a graduation application by the deadline established on the Duquesne Kline School of Law Academic Calendar (Please be sure to type your name exactly as you want it to appear on your degree.)
Review the Graduation Memo
Ensure that all tuition and fees are paid in full (Students that still have a balance with the University cannot participate in the Commencement ceremony or receive their degree)
Complete the Career Services Office employment survey
Pick up Graduation regalia in the Bookstore
Review day of event details
Attend the Commencement ceremony
Graduation Regalia
Graduates are required to wear the authorized Thomas R. Kline School of Law of Duquesne University academic regalia provided through the University Bookstore. Graduates may not wear a hood or cords from any other organization or school.
View the 2023 regalia purchasing options
School of Law Commencement Video Archives
Dates and Deadlines
To Do
Date/Deadline
Location
Graduation Fair



March 9th- 10 am to 1 pm,
4:30 pm to 6:15 pm

Upper Student Lounge
Graduation Announcement Pick-up

TBD

Main Office
Class Photo- 4E

March 22nd- 5:15 pm

Front Stairs (outside- weather permitting, alternate location- Courtroom 302)

Class Photo - 3D, 4P

March 23rd- 12:00 pm

Front Stairs (outside- weather permitting, alternate location- Union Ballroom)
Graduation Regalia Orders

Deadline- March 21st

Order Online
Certificates of Appreciation for Family

Deadline- May 2nd

Order Online
Regalia Pick-Up

TBD



Duquesne Bookstore
Commencement Mass

Saturday, May 13, 2023

Continental Breakfast immediately following mass

University Chapel

Law School Student Lounge

Robing and Line-Up
Saturday, May 13, 2023 at 10:15 a.m.

Auxiliary Gym, First Floor
UPMC Cooper Fieldhouse

Commencement Ceremony
Saturday, May 13, 2023 at 11:00 a.m.

UPMC Cooper Fieldhouse

Reception

Saturday, May 13, 2023 at 12:30 p.m.
immediately following graduation

UPMC Cooper Fieldhouse Concourse
Featured content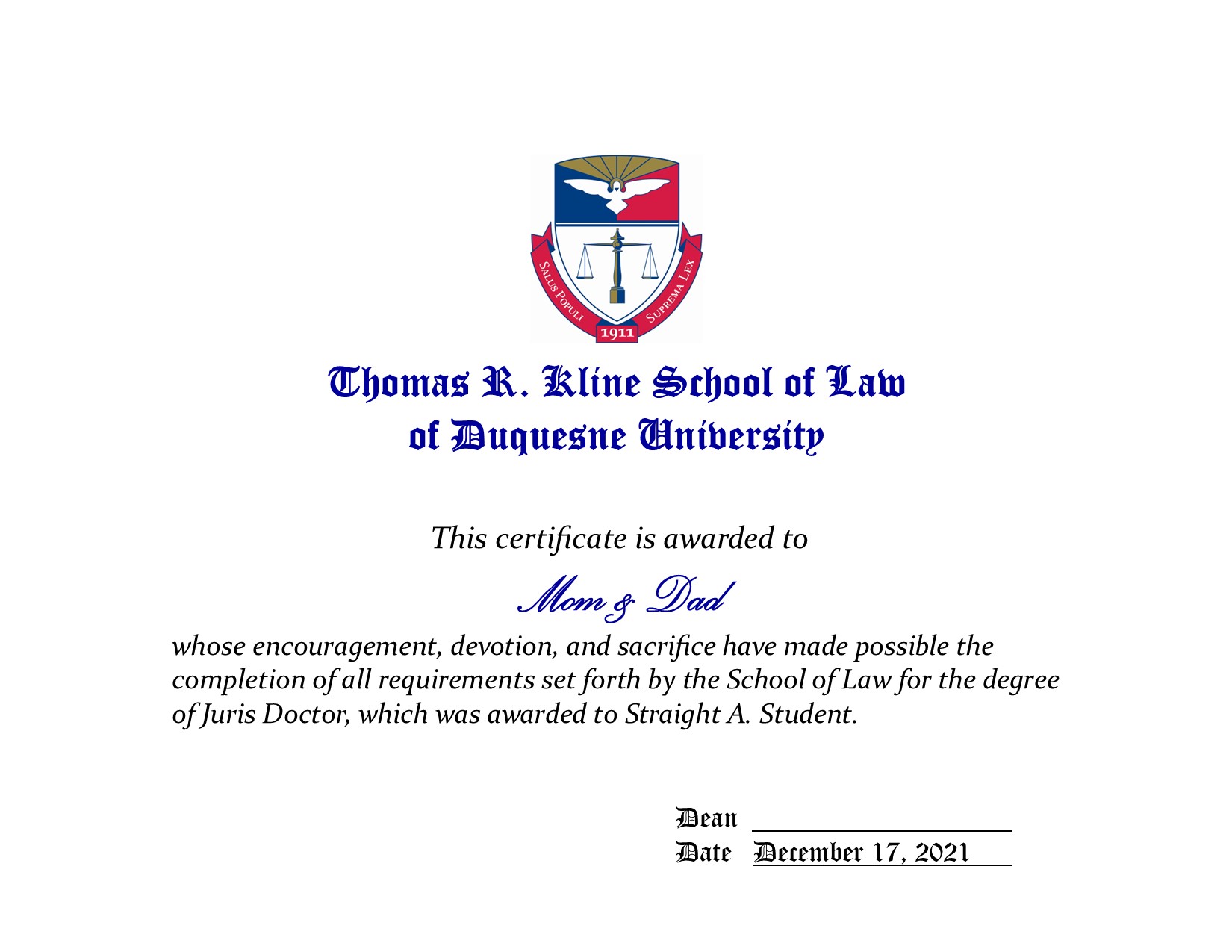 Certificate of Appreciation
Graduating law students may request a certificate of appreciation.